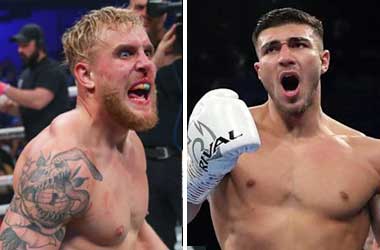 Summary
Jake Paul vs. Tommy Fury set for Aug 06
Paul concerned that Fury will put out a second time
Fury responds and confirms that he is on for Aug 06
Jake Paul had his first scheduled fight with Tommy Fury cancelled in December 2021 and Jake vowed that he would never fight Tommy Fury again.
Tommy is the younger brother of Tyson 'the Gypsy King' Fury who is widely regarded as one of the greatest heavyweight boxers of all time.
Jake, a YouTube celebrity along with his brother Logan Paul has enjoyed great success in the boxing ring in his short career and has a 5-0 record with 4 wins by KO. He finally agreed to a rescheduled fight with Tommy Fury but that now looks to be in jeopardy a second time.
Jake Concerned Fury Will Pull Out Again
Jake informed the media a few weeks ago that he would fight in the United States on August 06 but did not disclose the name of his opponent. The media found out a little later that Tommy Fury was set to fight Jake Paul as the Main Event on a pay per view card on Showtime.
Tommy Fury and boxers like him are the reason this sport started to die. Tommy, you have 24 hours to fix this. pic.twitter.com/JZFh6VAiGo

— Jake Paul (@jakepaul) June 22, 2022
Jake has now revealed that the rescheduled fight between the two may not take place as Tommy is concerned he will not be able to get his dad, John Fury to corner him. Reports suggest that John Fury has been banned from entering the United States for the last 10 years due to an undisclosed reason.
Jake Paul sent out a message to Tommy Fury and said that he was willing to fight without his coach and also without his corner to make it a fair game for Tommy. He said he did not want to give Tommy another reason to pull out of the fight!
Tommy Confirms He Is On For Aug 06
Tommy Fury wasted no time in responding as he quickly confirmed that the fight was on and he will show up on Aug 06 with or without his dad. Tommy also told the media that Jake had finally signed the contract agreeing to be drug tested and did so only when he found out that the fight could be cancelled.
Jake is very confident of running through Tommy Fury and is already looking ahead to his next opponent which many believe will be "Iron" Mike Tyson.