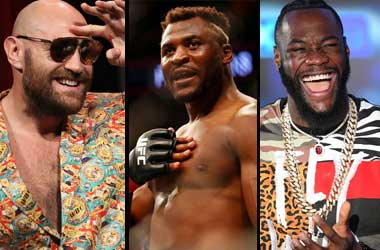 Summary
Francis Ngannou is only willing to step into a boxing ring for $30M
Ngannou is apparently taking the help of MMA fight promoter Ali Abdelaziz
Ngannou is open to the possibility of fighting Tyson Fury or Deontay Wilder
Former UFC heavyweight champion Francis Ngannou has been relatively quiet since relinquishing his heavyweight title and parting ways with the UFC.
UFC President Dana White claimed that the promotion had offered Ngannou a very attractive contract, more than what any other heavyweight was paid in the promotion but Ngannou wasn't interested.
Ngannou Interested In Boxing For $30M Purse
Ngannou had made it clear prior to his UFC release that he was keen to get into a boxing ring and test his skills. WBC heavyweight champ Tyson Fury has hinted in the past of doing a fight with Ngannou and it looks like Ngannou is keen to make that happen.
Multiple MMA promotions including Bellator and BKFC expressed interest in signing Ngannou but the ex-UFC champ has so far resisted signing any offer. It appears that Ngannou is in talks with MMA manager Ali Abdelaziz to help him secure a boxing contract which boxing betting sites will keep an eye on.
Leaked chat messages of Ali Abdelaziz reveal that Ngannou hasn't signed him as a manager but is taking help from him as a friend. Ali Abdelaziz revealed that Ngannou is willing to step into a boxing ring for a sum of $30 million.
Ali Abdelaziz manages a huge stable of MMA fighters and has a great relationship with Dana White and a lot of other MMA promotions. If anyone can help Ngannou secure a lucrative boxing contract and later on another attractive MMA contract, it will be Ali!
&nsbp;
Open To Tyson Fury, Deontay Wilder and Anthony Joshua
For Francis Ngannou to have a $30 million payday for just one fight in a boxing ring, he will need to fight a big name to collect that kind of money.
While Tyson Fury has expressed interest in fighting Ngannou and the two have faced off in a boxing ring in the past, the Gypsy King is most likely going to fight WBA, IBF and WBO heavyweight champ Oleksandr Usyk in April or May.
Another opponent that could secure a big payday for Ngannou is American Deontay Wilder but there are talks that Wilder is likely to fight Andy Ruiz Jr. next. The only other option is Brit Anthony Joshua but so far we haven't seen a lot of interest from AJ's side to fight Ngannou.