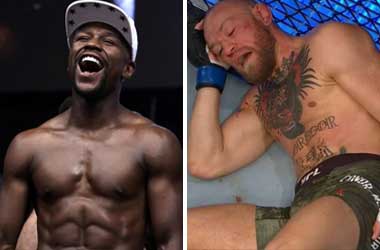 Floyd 'The Money' Mayweather might not have admitted it publically but he would have been hoping that his old foe Conor McGregor would win at UFC 257 which took place in Abu Dhabi on Jan 24.
Conor McGregor headlined UFC 257 when he fought Dustin Poirier in what was unofficially the fight for the number one contender spot for the UFC lightweight championship. Things did not go McGregor's way as he was KO for the very first time in his UFC career in the second round.
The last official boxing fight that Floyd Mayweather had was when he faced Conor McGregor in August 2017 and won by stoppage. It was known as 'The Money Fight' as both fighters took home paychecks in excess of $100 million each.
McGregor has often hinted at a possible rematch with Mayweather and Floyd has been open to the idea. However, this loss at UFC 257 does not help McGregor's boxing career or his UFC career as it does not make sense for Mayweather to call out McGregor after a loss.
`
Full Mount MMA
Mayweather took to social media to hurl abuse at McGregor and called him "Con Artist McLoser". Mayweather also referred to him as a bum and said that McGregor could never reach the same level or attain the mindset that he possessed. Floyd is currently retired with a phenomenal 49-0 record.


Rumours suggest that Mayweather is keen on coming out of retirement for another money fight. There were talks that he was going to box YouTube sensation Logan Paul in February 2021 but it appears that this exhibition fight is now postponed as it apparently did not generate the amount of interest that the organizers initially expected.

Mayweather Alleges Racism
Floyd Mayweather also went on to claim that he has suffered racism throughout his career as but a white kid like McGregor can lose in his own sport of MMA and still talk about wanting to fight Manny Pacquiao.
Mayweather said that unlike McGregor who spoke thrash but could not back it up in the Octagon, he spoke thrash and backed it up everytime he stepped into the boxing ring and his 49-0 record is proof of his accomplishments.
Mayweather beat Manny Pacquiao in May 2015. There were rumours that a second fight was going to take place but nothing materialized. Given the fact that Mayweather needs a big money fight, he might have to go back to Pacquiao soon.