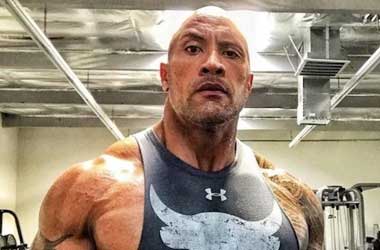 The UFC has put together some really impressive cards in 2019 but nothing as impressive as UFC 244 which takes place on November 2 at the iconic Madison Square Garden (MSG).
The UFC has made it a habit to headline its pay-per-view shows with a minimum of one UFC Championship on the line.
This time there will be no UFC Championship on the line as UFC President Dana White has decided to create a new belt called the 'Baddest Mother Fucker' (BMF) belt and spent over $50,000 to do so.
White says that this is a one-time championship belt to decide who the BMF is in the fight game.
Dwayne 'The Rock' Johnson who is arguably the biggest star in Hollywood right now and a huge UFC fan is expected to not only be in attendance but also be the one to wrap the belt around the waist of the BFM in the UFC on Saturday night.
Doing all I can to make this fight. If I can and you win, I'll put the belt around your waist at MSG – consider it done. Already shaping up to be one of the biggest and most electrifying fights in @ufc history. Can't wait. @GamebredFighter @NateDiaz209 #respect #BMF #UFC244 ⚡️ https://t.co/nVTIeBtkgv

— Dwayne Johnson (@TheRock) September 9, 2019
Diaz vs. Masvidal For The BMF Belt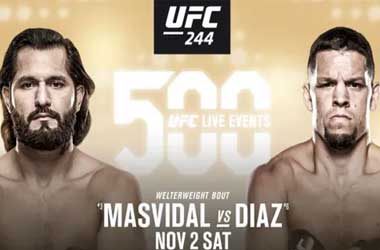 Jorge Masvidal has never headlined a pay-per-view card before but his last two fights have made him a global superstar. Nate Diaz has been around the fight game forever and hogged the headlines after he defeated Conor McGregor.
The two G's as they like to call themselves have spent over a decade fighting and don't really have an impressive record in terms of wins vs. losses.
Both Diaz and Masvidal have more than 10 losses each on their records but that only adds to the excitement as it shows fans that they have bounced back from their losses and have no quit in them. To get a better analysis of the main event why not checkout our UFC 244 betting guide.
UFC244: Stacked With Awesome Fights
* Odds have been provided by Bovada and are accurate of 30 October 2019
While the Main Event for the BMF belt will hog the headlines for UFC 244, the entire card is packed with awesome fights. The co-main event sees UK's Darren Till (+160) move up to welterweight to fight Kelvin Gastelum (-200).
Some of the other fights on the main card include Stephen 'Wonderboy' Thompson (-135) take on Brazilian Vincent Luque (+105) and Derek 'The Black Beast' Lewis (EVEN) take on Bulgarian heavyweight Blagoy Ivanov (-130).
The undercard is also packed with good fights including an exciting light heavyweight fight between Johnny Walker (-170) and Corey Anderson (+140) and Shane Burgos (-250) and Makwan Amirkhani (+195).