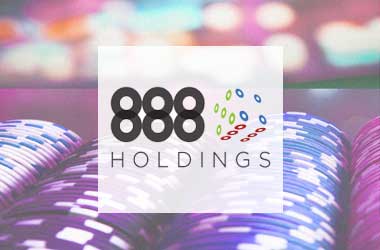 While land based casino operators were devastated in 2020 with the COVID-19 shutdown, online gambling operators had a big payday. 888Holdings is one of the biggest gambling operators in the UK who recorded soaring profits in 2020 as the online betting operator saw an increase of 1.5 million new customers last year.
888Holdings operates a number of popular online gaming sites which include 888poker, 888sport, 888casino and Wing Bingo. The operator saw a total of $560.3 million in revenues during 2019 and an increase of over 50 percent in 2020 when revenues soared up to $849.7 million.
888 confirmed that it witnessed a 58 percent growth in regulated markets which helped its adjusted profits before tax to reach $116 million in 2020. This was over a 200 percent increase when compared to 2019. The UK market continued to be a huge market for the operator with a 63 percent growth rate.
888Holdings recognized the opportunity in the midst of a lengthy UK lockdown and launched over 700 new casino games during the lockdown. UK players were forced to turn online for their entertainment fix and top brands like 888Holdings were happy to provide a wide variety of games for players to bet on.
888Holdings Continues To Expand
888Holdings pushed hard in 2020 to make the most of the market situation. The operator launched its first in-house sports betting platform via 888sport which was rolled out across multiple countries. 888Poker also launched its first mobile poker app which received a very positive reaction from the online poker community.
888poker said that the mobile app played a big role in generating a 48 percent revenue increase in online poker. 888poker was one the second biggest poker room in the world but it lost its position to partypoker and is now taking steps to reclaim that position.
888 is also focusing on the U.S. sports betting market and is looking to establish itself as a major player in the lucrative American sports betting market. 888 currently has a sports betting presence in four states and is set to launch into another three states before the end of 2021.
888 CEO Itai Pazner said he was very pleased with the company's performance in 2020 given the global coronavirus pandemic. He heaped praise on team for meeting all of the challenges and pushing forward to deliver such great financial results.
Gaming Intelligence