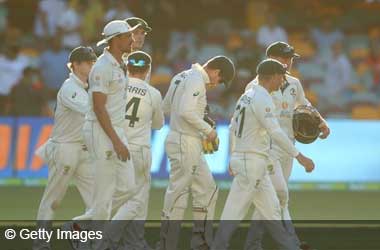 Australia suffered an embarrassing 2-1 series defeat on home soil to India after losing the fourth and final test at the Gabba on 19 Jan.
The fact that Australia lost a home series to India will hurt but when you take into consideration that India were playing with a second string team due to injuries, the series loss is an embarrassment to Australian cricket.
Australia blew India away in the first test at Adelaide and took a 1-0 series lead. India also lost their best batsman and captain Virat Kohli who went back to India for the birth of his first child.
Australian cricket pundits were quick to write India off and spoke about a 4-0 whitewash.
However, India showed amazing fight winning the next test at the MCG to level the series 1-1. They held Australia to a draw at the SCG to make the fourth test at the Gabba, the series decider.
cricket.com.au
Australia never lost a test at the Gabba for 30 years but did so on Monday evening when India pulled off a remarkable win. This test series will go down in the history books but it is something Australia will want to forget.
However, they cannot forget this series loss as the Australian Cricket Board (ACB) and head coach Justin Langer need to take a close look at the series and see what went wrong. We feel that the three areas Australia failed at was the batting, the fielding and with their game plans.
How Do You Make Things Right?
The batting needs to be fixed by making the right selection choices. Players like Joe Burns, Matthew Wade, Travis Head and Marcus Harris need to make a lot of runs at first class level to be considered again. Australia needs to look at finding younger players who can step up and deliver on the international stage.
Australia dropped a lot of catches that cost them dearly. It is easy to sweep it under the carpet and focus on bigger issues like selection and captaincy but make no mistake about it, the dropped catches probably cost them the series in the end.
Tim Paine's captaincy and tactics came under the scanner and rightly so. Australia has to look at dropping the 36 year old Paine and replacing him with the younger Alex Carey. The captaincy has to go to either Pat Cummins or Marnus Labuschagne.