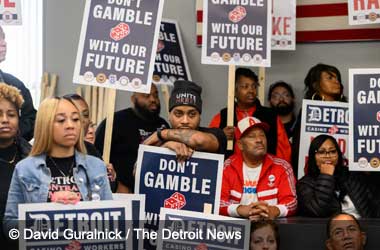 Summary:
The unions are trying to negotiate an agreement with three casinos.
Negotiations began in early September.
The Detroit Casino Council represents 3,700 casino workers in five unions.
Casino employees in Detroit are tired of waiting for a new union deal. There are five unions in the city located within Michigan that focus on employees of Detroit commercial casinos that have already voted in approval for a strike if a deal is not reached.
The gaming venues have through today to reach an agreement, or the strike can begin as early as midnight.
Where's Our Deal?
Since September, the employees connected to the unions have been trying to cut a new deal with the three commercial casinos in Detroit. The negotiations have stalled and have not resulted in a deal, so the majority of the 3,700 casino workers across five unions voted to strike if needed.
The old contract expires at 11:59 pm tonight, and the union members have agreed that if a deal is not met, they will authorize a strike if necessary. The Detroit Casino Council represents the workers, and according to reports, the Council and casinos are not close to an agreement for a deal.
The major issues at play are higher wages, health care costs and improved benefits via a 401(k) plan. Employees would also like to be able to provide more input on new technologies that would affect their job security. It is unclear as to exactly what type of proposals have been submitted on either side of the negotiations.
Casino employees of Detroit casinos have never gone on strike, so if one is authorized, it would be a first-time occurrence. The casinos would most likely have to close or limit services if employees go on strike due to training and licensing needed for many casino positions.
A potential strike would affect MGM Grand, MotorCity Casino and Hollywood Casino. Employees were working under a five-year contract that started in 2015, and by 2020, it was extended for three years with a small wage increase due to the COVID-19 pandemic.
Employees now want a larger raise to enjoy the fruits of their labor. In 2022, the casinos reported over $2.2 billion in online and retail gaming revenues. This was over $800 million more than in 2019, which was pre-COVID.
Las Vegas Casino Workers Prep for Strike
Employees in Las Vegas are also considering a strike against operators like Caesars, Wynn Resorts, and MGM Resorts. Just a few days ago, informational picketing took place in front of several casinos on the Stripe for two-hour increments.
Employees brought signs and provided information on the negotiation issues. Members of the union asked any patrons who visited during these hours to not cross picket lines. Negotiations in Las Vegas have stalled for months as employees seek higher wages and better benefits, similar to what is requested in Detroit. A strike is imminent in Sin City if the casinos and Culinary Union are unable to come to an agreement soon.