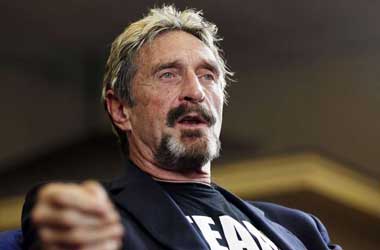 Cryptocurrency industry's vehement supporter and cyber security pioneer John McAffee was hospitalized after being poisoned by people, whom he called "incompetent enemies".
Notably, a month before McAfee had revealed to Independent that he feared for his life. Yesterday, the founder of McAfee anti-virus software company used Twitter to share photos of himself lying on a hospital bed.
McAfee almost worked as a propaganda machine for some cryptocurrencies, which he believed will offer great returns in the future. As he had more than 800,000 followers, the cryptocurrency being recommended shot up immediately. The US SEC did take a notice of it and served him subpoena in 2016.
McAfee Tweeted
I apologize for my three day absence but I was unconscious for two days at the Vidant Medical Center in North Carolina and just woke up. My enemies maged to spike something that i ingested. However, I am more difficult to kill than anyone can possibly imagine. I am back.

— John McAfee (@officialmcafee) June 22, 2018
In December 2017, he went all out in favor of Verge (XVG), which skyrocketed from less than a penny to about 20 cents in a matter of few days. Last week, he blamed that SEC has threatened him to stop tweeting in favor of cryptocurrencies and ICOs. This is not the first time McAfee made such claims. In September last year, he stated that violent cartels are trying to kidnap him. At that time he explained that such attempts started after his 2012 tour of Belize where he was investigated for a murder of his .neighbor. McAfee lives in a heavily guarded house at Lexington, Tennessee.
Yesterday, McAfee also tweeted

And for those who did this – You will soon understand the true meaning of wrath. I know exactly who you are. Youh had better be gone. pic.twitter.com/URgz5BtMLF

— John McAfee (@officialmcafee) June 22, 2018
In response to a tweet from a well-wisher, McAfee said "It takes more than poison, bullets or hanging to kill me. All three have been tried more than once." He also shared a photo of himself and his wife Janice giving the middle finger to the camera.
To know his health condition, Futurism contacted the Vidant Medical hospital in North Carolina, where McAfee claims to have been bid ridden for three days. However, the hospital has categorically denied the existence of records of a patient by that name.