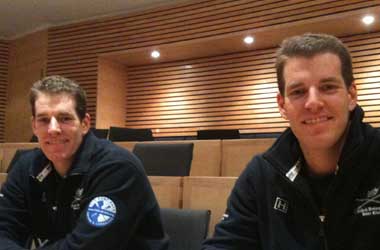 The U.S. Patent and Trademark Office (USPTO) have published a new patent filed by Cameron and Tyler Winklevoss' for "securely storing digital assets." The patent titled "Systems and methods for storing digital math-based assets using a secure portal," filed by Winklevoss IP, LLC, explains a new approach that allows dividing a cryptocurrency account "into a plurality of private key segments," offering a highly secure technology for cryptocurrencies.
The patent explains the system as follows:
"Private keys for a multi-signature account may be stored as backups, e.g., in secure storage, which may be difficult to access, and may be used in the event that more readily obtainable keys are lost."
Per the filing, the patent is applicable to "digital math-based assets," which includes Bitcoin (BTC) and other altcoins such as Ethereum (ETC), Ripple (XRP), and Litecoin (LTC).
In April, the firm received a patent for a system that enhances the security of digital transactions through the use of common cryptographic encryption principles.
During the second quarter, Winklevoss IP was granted a patent for cryptocurrency-based asset trading that enables utilizes cryptocurrencies for the settlement of exchange-traded products (ETPs). Furthermore, in June, the Winklevoss' brothers also received a patent for another crypto-related ETP system.