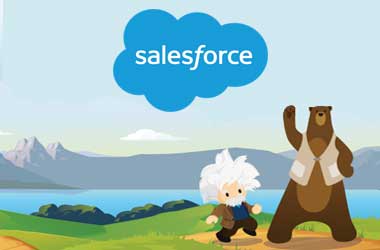 San Francisco-based cloud computing company Salesforce has revealed that it is working on a blockchain product that could soon be listed in the company's product offering. The information was revealed to Business Insider's Julie Bort by the world's number uno CRM company's co-founders Marc Benioff and Parket Harris.
According to Business Insider's report, during his participation in the World Economic Forum in Switzerland, Benioff started thinking about blockchain technology and how it could be used to build products that would complement Salesforce' product portfolio.
It seems a conversation with an attendee who participated in the crypto conference, which took place at the same time in the Intercontinental Hotel, made Benioff think about blockchain technology.
Benioff said
I had been thinking a lot about what is Salesforce's strategy around blockchain, and what is Salesforce's strategies around cryptocurrencies and how will we relate to all of these things. He is actually a big believer in the power of serendipity, and he said just by having that conversation, it started him down the road to thinking more seriously about Salesforce's role in this developing technology. He said the more he thought about it, the more he believed that Salesforce could make use of Blockchain. Then suddenly something clicked for him and he saw a way to put blockchain and cryptocurrencies to work in Salesforce. That's kind of how it works and I hope by Dreamforce we will have a blockchain and cryptocurrency solution.
Benioff believes that ideas come from paying attention and listening. The dialogue he had with the person in Davos has enabled Benioff to recognize an opportunity to expand Salesforce in a meaningful manner. The co-founder believes that success depends on choosing the right ideas which are most important for customers.
Benioff added
"That's kind of how it works and I hope by Dreamforce we will have a blockchain and cryptocurrency solution."
Dreamforce is Salesforce's annual customer conference. It is planned to be held this year from September 25-28 in San Francisco. By then, if everything goes as planned, the company could be announcing a blockchain product during the event.
About Salesforce
Founded in 1999, Salesforce pioneered the revolutionary idea of replacing traditional desktop CRM software with CRM in the cloud, making it accessible anytime from anywhere. Today, the company's innovative cloud platform is the world's #1 CRM solution. All Salesforce products run entirely in the cloud so there's no expensive setup costs, no maintenance and employees can work from any device with an internet connection – smartphone, tablet or laptop.
CRM can be easily used by both small businesses and large scale enterprises. This approach has made Sales Cloud the world's number 1 CRM system. The company generated an annual revenue of $8.40 billion in fiscal 2017.