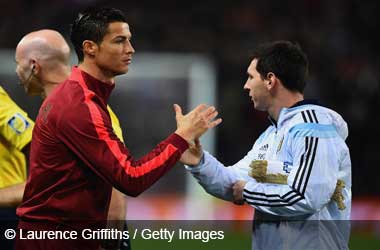 Adrian Heath, the manager for the MLS franchise Minnesota United believes that the dream of many a football fan may very well become a reality.
Heath is confident that the two biggest superstars in world football – Lionel Messi and Cristiano Ronaldo could play out the twilight of their careers at Inter Miami – where David Beckham is part owner.
David Beckham is one of the most popular faces in world football. He is the former captain of England and has played for Manchester United and Real Madrid. Towards the end of his career, Beckham also played midfield for the LA Galaxy. Now that he is part team owner of Inter Miami, he has made no secret of his lofty plans for his new team.
Heath believes that Beckham has enough power to combine the talents of Messi and Ronaldo in a new super-team that would fulfill the dreams of countless fans across the globe. Beckham's new venture is backed by a team who share his passion for football, with the deep pockets to make major moves in the sport.
MagicalMessi
Heath says there is only one person and that is David Beckham with enough clout to even consider such a massive undertaking, which would be a coup for both MLS and the American soccer scene: Beckham. Heath envisioned Ronaldo taking a cue from other football superstars Wayne Rooney, Frank Lampard, Zlatan Ibrahimovic and Steven Gerrard who have all played in the MLS. The most obvious destination for these two superstars will be either Los Angeles or Miami.
Beckham has long enjoyed a close relationship with Ronaldo, who at age 35 may be looking to round out his career outside of Europe before his inevitable retirement. Lionel Messi is a few years younger at 32 and is currently still playing at his peak. Beckham is also close to Messi and could make this happen down the line.
Don't forget to checkout our latest odds at US Sportbooks for Inter Miami's historic debut match at home against LA Galaxy on March 14th 2020.
Two of the Most Iconic Players in Football
Ronaldo and Messi are two of the most iconic players in modern football history, obliterating much of the competition in the last decade—breaking records and lifting trophies consistently with their teams. Both have also competed with one another for personal accolades, winning every Ballon d'OR since 2008, Messi has the most recent save for one won by Luka Modric.
They spent most of the careers facing each other on the field, with Barcelona and Real Madrid being perennial rivals. If Heath is to be believed, Beckham's new franchise could soon have a legendary attacking duo in Ronaldo and Messi—drawing the interest of more Premier League superstars.
The MLS has long been a place where aging superstars played out their careers, but that may soon change if Ronaldo and Messi join.