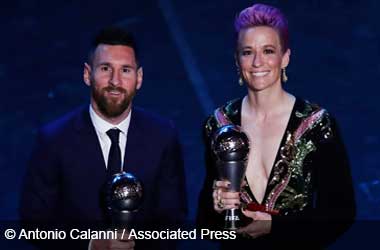 There are numerous awards that are given away each year to football players and one of the most popular awards is the Ballon d'Or (Golden Ball) which is awarded by France Football.
Footballers from around the world are eligible for this award which is decided by journalists, coaches and national captains.



FRANCE 24 English
Lionel Messi Wins Sixth Ballon d'Or
Lionel Messi and Cristiano Ronaldo have dominated world football for close to a decade as they have been the two best players in world football. The on-going debate as to who is the better player tends to go back and forth each year as the two of them shared 10 Ballon d'Or Awards with each of them having 5 to their name.
Argentina's Lionel Messi won the 2019 Ballon d'Or Award as he saw off competition from Cristiano Ronaldo and Liverpool's Virgil van Dijk who has had a fantastic season that saw the defender win the UEFA Player of the Year award after helping Liverpool win the Champions League in 2018-19.
There were many who expected van Dijk to become the first defender in 13 years to win the Ballon d'Or award which is traditionally given to strikers. It wasn't to be as Messi pipped after having an outstanding year that saw him finish as Europe's highest scorer for the third year running. Messi helped Barcelona win their 10th La Liga title and his performance was good enough to earn him the Ballon d'Or.
Ronaldo has had to face multiple problems off the field in 2019 which included allegations of rape. Messi also beat Ronaldo to win the Best FIFA Men's Player of the Year award back in September.
Megan Rapinoe Wins Ballon d'Or
Controversial American female footballer Megan Rapinoe also won a Ballon d'Or award for having a fantastic year. While Messi was present to collect his award in person, Rapinoe decided to skip the awards ceremony and decided to accept the awards via a video recording.
The 34 year old American had an outstanding World Cup which gave her the platform to showcase her skills and become a household name. There was very little competition against Rapinoe who also won the Golden Boot for being the top scorer at the World Cup.
She is a vocal critic of President Trump and refused to visit the White House after winning the World Cup.