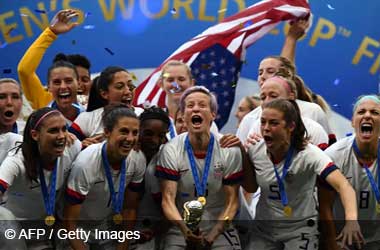 The United States Women's National Team (USWNT) created history on Sunday night when they defeated the Netherlands to win the 2019 World Cup to win back-to-back World Cup, as we predicted in our betting preview. Their 2-0 victory also ensured that they kept their World Cup streak alive as they have now won 17 consecutive World Cup games from 2011 to 2019.
The USWNT had won three World Cup's entering into the final against the Netherlands but they had never really got the attention they deserved for all these years.
The 2019 World Cup saw all that change as Megan Rapinoe and Alex Morgan scored freely and then celebrated their goals throughout the World Cup in 'style' that some found offensive.
Rapinoe has also stayed in the spotlight due to her protests against the Trump Administration which includes remarks on President Trump and her stance on not visiting the White House.. All that was forgotten on Sunday night as Rapinoe took the field despite a strained hamstring.
CBS News
She scored the first goal for the US by converting a penalty and giving the US a 1-0 lead. The Netherlands tried hard to push forward and equalize but it exposed their defense and that gave Rose Lavelle the opportunity to score in the 69th minute and make it 2-0.
The Netherlands did not play as well as they would have liked under pressure and could have lost by a bigger margin if their goalie and captain Sari van Veenendaal did not put up a fantastic performance.
The USWNT were thrilled with their accomplishments and used the spotlight to call for equal pay. The women's team don't get paid the same as their male compatriots despite being more successful and have fought long and hard to gain equal pay.
Donald Trump Responds To Equal Pay Demand
President Donald Trump put aside the remarks made by Megan Rapinoe and congratulated the team for winning the World Cup and told them America is proud of what they achieved. He also addressed their demands of equal pay and said he needed to look into the numbers.
In a statement, President Trump said
I would like to see that, but you've also got to look at numbers, you have to look at who's taking in what and see how they're performing. You have to see year round, how are they all drawing — what is the attendance for women's soccer outside of World Cup. But I would like to see the numbers.