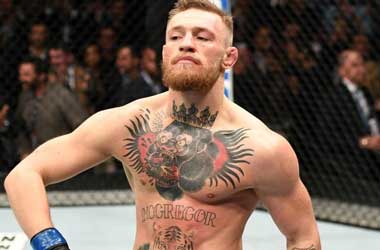 Summary:
The UFC is looking to put together a massive card for its UFC 300 PPV in April 2024
Conor McGregor did a Q&A with his fans on X and confirmed he is in for UFC 300
However, McGregor did not confirm if he will go ahead with his fight with Michael Chandler
UFC 300 is set to take place in April 2024 and the UFC will look to stack this card and make it one of the most stacked cards in the history of the promotion.
As of now, it is unclear who the UFC will get to headline the Main Event and co-Main Events as some of the promotion's biggest superstars are out injured or will not be ready for UFC 300.
Heavyweight champ Jon Jones is out till June 2024, lightweight champ Islam Makhachev is out due to Ramadan, featherweight champ Alex Volkanovski will not be ready as he is set to fight in Feb 2024. One fighter that can be ready and could headline is the "Notorious" Conor McGregor.
McGregor Confirms In For UFC 300
Earlier in the week, McGregor's coach John Kavanagh said that McGregor will not fight in April and will likely be ready to step into the Octagon only in the summer. However, McGregor contradicted those remarks when he did a Q&A with his fans on the X platform.
In! 🙏 https://t.co/rPwUt1TFJO

— Conor McGregor (@TheNotoriousMMA) November 15, 2023
When asked if he was in or out for UFC 300, McGregor replied in the affirmative and said that he was in for UFC 300. He did go on to say
I am confident we get the set date. There is no one holding no one back. A lot goes on behind the scenes but all involved are working hard to make it happen 🙏 https://t.co/TC9SOrVI1I

— Conor McGregor (@TheNotoriousMMA) November 15, 2023
McGregor last fought in the UFC in July 2021 at UFC 264 and lost to Dustin Poirier after suffering a horrific leg injury. Even though he hasn't fought for over 2 years, he continues to remain the biggest star in MMA.
McGregor Does Not Confirm Opponent
McGregor was expected to fight Michael Chandler after the two of them did the Ultimate Fighter show earlier this year.
However, McGregor did not confirm if he would fight Chandler on his return but kept his options open including stating that he has unfinished business with Dustin Poirier!