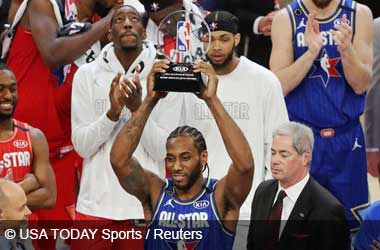 In his annual All-Star news conference, Adam Silver, commissioner of the National Basketball Association (NBA), announced that the All-Star MVP Award will now be named after the late superstar Kobe Bryant to commemorate him and his vast accomplishments in the game.
Silver said that the league has discussed a number of ways to commemorate Bryant's memory, and decided on the All-Star award due to Bryant's long and storied history in the all-star festivities—Bryant was most known for winning five championships, but he was almost as known for making 18 All-Star teams and tying the league record of four MVP awards.
Kawhi Leonard, the star forward of the Los Angeles Clippers was the first recipient of the Kobe Bryant MVP Award. Leonard was part of Team LeBron, who overcame Team Giannis (which we predicted) to eke out a win in the final seconds of the game 157-155 due to free throws made by Leonard's All-Star teammate Anthony Davis.
ESPN
This is the first All-Star game to be won through a target score (157), instead of a specific duration of time of gameplay. The winning team earned $300,000 to donate to charity; in this case, the winnings were received by Chicago Scholars, a nonprofit organization focused on helping students from Chicago achieve their academic dreams.
Tributes to Kobe Bryant's life and career were included throughout the All-Star Weekend's festivities. Magic Johnson led an 8-second moment of silence for Bryant and former NBA commissioner David Stern, who died Jan. 1. Jennifer Hudson, Chance the Rapper and Dr. Dre all provided tributes to commemorate how Bryant changed the game of basketball.
Bryant's Long All-Star History
The MVP6 award has long been nameless; it will now be permanently named after Bryant, who made his first All-Star game in 1998 at 19 years old, the youngest player in history. Bryant, who spent his entire playing career for the Los Angeles Lakers, still holds the record for making 18 straight All-Star teams, from 1998 to 2016—barring the 1999 lockout season, when the NBA cancelled its All-Star game.
Bryant died on Jan. 26, 2020, along his daughter Gianna, and seven others in a helicopter crash. The NBA changed the jersey numbers of Team LeBron to "24" for Bryant's jersey number, and Team Giannis to "2" for Gianna's number.