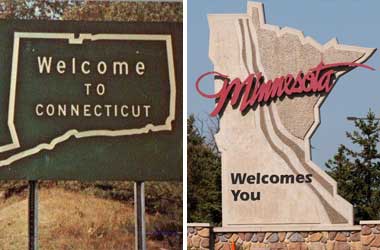 The sports betting market in the United States continues to flourish and generate significant revenue for those states that have legalized sports betting. A number of states that have been sitting on the fence when it comes to legalizing sports betting have been forced to make a decision after COVID-19.
The coronavirus pandemic caused huge financial losses in the United States and most states have a huge budget deficit that they are looking to fill in 2021.
One way of bringing in more revenue is to look at legalizing sports betting. Connecticut and Minnesota are two states that are currently looking at new sports betting legislation.
Connecticut has tried in the past to get sports betting legalized but has failed. The Mohegan and Mashantucket Pequot tribes have opposed sports betting on the basis that it violates a compact that Connecticut has with the tribes. The two tribes currently share 25 percent of all slot gaming revenue with the state and in return have the exclusive rights to offer casino gaming in the state.
WFSB 3
It appears that the state is now in a better position to convince tribal operators and finally push forward with sports betting legalization in 2021.
Minnesota Reintroduces Betting Legislation
Minnesota is in a very similar position as Connecticut as the main opposition to sports betting comes from tribal casino operators. Minnesota has introduced sports betting legislation in the past but has not made much headway because the tribes have flat out rejected the proposal.
Minnesota is currently facing a $1.3 billion deficit in its state budget and is very keen on getting sports betting legalized. State legislators know that their biggest hurdle is to convince tribal operators and they believe that they can work out an agreement that will keep them happy.
The new bill looks to establish a new gambling regulator that will oversee both tribes and racetracks as well.
FOX 9 Minneapolis-St. Paul
Mississippi was the fourth state to legalize sports betting but the current bill does not allow for mobile sports betting. State legislators have introduced two new bills that push for mobile sports betting to be legalized.
Mississippi is taking a leaf out of its neighbour Tennessee who legalized mobile sports betting in Nov 2020 and saw an additional $2 million in revenue start to come in.