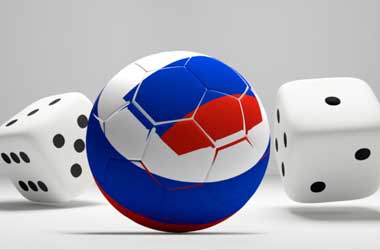 An investigation into Russia's illegal betting industry has shown that at least $1 billion a year is being poured into the off-shore accounts of Russian shell companies by millions of online bettors.
The report poses challenges for the government and Russia is set to host the 2018 FIFA World Cup in June and bookmakers will look to target every game and make millions in what is considered to be one of the most popular sports in the world.
Sports Betting To Spike Due To 2018 FIFA World Cup
Online sports betting is legal in Russia and is growing at a rapid rate. Online sports betting websites are excited at the prospect of taking bets for the 2018 FIFA world cup but are also concerned that they are going to lose a significant portion of their revenue due to illegal gambling operators. The government has tried to crackdown on the underground sports betting industry but has not had a lot of success so far.
In a statement, Anton Rozhkovsky, the director of the government-mandated TsUPIS online betting payment system, said:
"The total turnover volume of the legal and offshore online bookmaking market is more than $2 billion (€1.6 billion) a year. We do not pretend to know if the actual figure is $2.5 billion or $4 billion. Around 70 percent of that is illegal, offshore business."
The massive underground online gambling industry has its roots in the collapse of the Soviet Union. When this happened, the public's demand for organized gambling was high and the many casinos and slot machine halls were opened to meet the demand. They were not strictly illegal but they often underpaid taxes or avoided paying them at all.
The government tried to control the industry by closing all unauthorized gambling locations in 2009. However, they did allow some bookies to operate sport betting shops. The main focus was on soccer. The trouble was that with the increase of improved internet access, many sports bettors turned to online betting sites to meet their betting needs.
The illegal sports betting industry is a headache for Russia as it can cause rumors of match-fixing to circulate. Suspicious results have become a regular occurrence in Russian soccer since the 1990s. Though stricter regulations have been placed on the Premier leagues, the lower leagues still face a lot of this.
Illegal Operators Thrive Due To Stringent Process Of Licensed Operators
In a May 2017 report, analysts stated that the sports betting industry in Russia would generate around $11.8 billion a year. The report also said that 65 percent of that revenue will come from illegal online bets. This market is also expected to triple in size in the next few years thanks to the many high-profile events that are coming up like the FIFA World Cup.
The legal online betting industry is also growing. There are 15 authorized bookmakers that service the Russian market. Most of them are local startups, while there is one Austrian brand that managed to obtain a license in 2017.
However, going the legal route is a time-consuming process. Bettors are required to pay a tax and submit identity papers to both the TsUPIS and every bookie that they place bets with. The process is tedious and hence most bettors prefer illegal betting websites where the process is a lot less stringent.