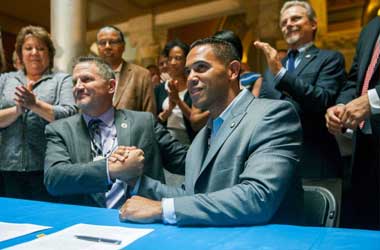 The two American Indian Tribes in Connecticut spoke on Monday of their disappointment regarding a weekend ruling that was made by a federal judge. The judge's decision jeopardizes the tribes' plans to open a new casino in the state which they had hoped to build in East Windsor. The tribes vowed to keep fighting for the project to get the go ahead.
MMCT Venture is an entity that was assembled by the Mashantucket Pequots and Mohegan tribes and initially looked to develop a third casino in Connecticut to counter out-of-state competition from MGM Springfield in Massachusetts. MMCT issued a written statement in which they said that they will continue to be committed to going through the process as well as being committed to the people of Connecticut and their partners in the state government.
Federal Ruling Hurts Tribal Casino Project
U.S. District Court Judge Rudolph Contreras released a 58 page verdict over the weekend that ruled that the state and the tribes cannot force federal regulators to make changes to their standing revenue-sharing agreement. The state of Connecticut and the two tribes sued the U.S. Department of Interior and Secretary Ryan Zinke last year claiming that they failed to act on changes in the compact. It is one of the steps that needs to be done before their new East Windsor casino can open.
The new casino is intended to compete with the new MGM Resorts Springfield in Massachusetts. The authorization of the casino in East Windsor in 2017 relied on Interior approving revisions as a way to ensure that the project would not endanger the current revenue-sharing agreement that they have with the two tribes' casinos. With Zinke not approving, the project has been put on indefinite hold.
MGM released a statement on Sunday night saying that the ruling has to be seen as a rejection of the two tribes' attempts to acquire a no-bid casino license. The statement went on to say that it is obvious that the promises of legal victory by the tribes are very bleak.
MMCT Vows To Continue Fight
MMCT admitted they were disappointed with the decision but they intend to fight back. Connecticut's AG also confirmed that they were looking at the next steps in taking legal action.
In a statement, a representative of MMCT said
We started this process because thousands of people will lose their jobs and the state will lose millions in revenue if we fail to compete with MGM in Massachusetts. We are obviously disappointed with the court's ruling and are currently reviewing our options.