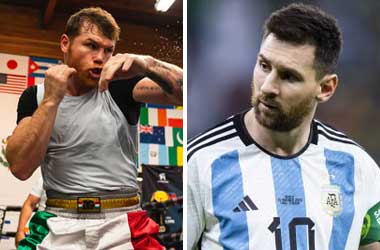 Summary
Mexican superstar boxer Canelo Álvarez threated Lionel Messi for disrespecting Mexico's jersey
Multiple MMA stars and football stars came to Messi's defense
Canelo has now issued an apology to Messi and the people of Argentina
Argentina played Mexico on Nov 27 at the 2022 FIFA World Cup and went on to win comfortably with a 2-0 scoreline with their captain Lionel Messi scoring the first goal.
Thousands of Mexican sports fans in the stadium and millions around the world were disappointed with Mexico's loss to Argentina but one Mexican fan in particular got mad at Messi not for his goal but for his alleged disrespect against the Mexican team jersey.
Saúl 'Canelo' Álvarez is the most famous and decorated boxer in Mexico. Canelo was very unhappy over a video that showed Lionel Messi kicking a Mexican jersey after the match. Canelo who has over 14 million followers on Instagram said he felt Messi was cleaning the floor with the Mexican jersey and said Messi needs to pray to God so that he does not find him!
Canelo had some strong words for Messi after seeing his locker room celebration 👀

(via @canelo, nicolasotamendi30/IG) pic.twitter.com/emRRHK1nGO

— ESPN Ringside (@ESPNRingside) November 28, 2022
MMA Stars Support Lionel Messi
A number of MMA stars and football players came out in support of Lionel Messi and asked Canelo to take another look at the video as Messi was in no way cleaning the floor with the Mexican jersey, his foot touched the jersey in the video which was more of an accident than deliberate.
Canelo wasn't willing to back down and continued to go after Messi on social media. A number of MMA stars from Argentina including veteran UFC fighter Santiago Ponzinibbio came to Messi's defense. Ponzinibbio told Canelo that he needs to leave Messi alone and if he wants to fight, he can come fight him!
Swedish football star Zlatan Ibrahimović who is a friend to Messi called Canelo a clown and said that if he touched Messi, he would send him into the afterlife!
After received a lot of flak on social media, Canelo released a statement and issued an apology to Lionel Messi and the people of Argentina. Canelo said that he got carried away during the last few days and let him emotions get the better of him due to his love for Mexico.
Canelo ended by saying that every day we get to learn something new and now it was his turn!
Estos últimos días me dejé llevar por la pasión y el amor que siento por mi país e hice comentarios que estuvieron fuera de lugar por lo que quiero disculparme con Messi y la gente de Argentina. Todos los días aprendemos algo nuevo y esta vez me tocó a mí.

— Canelo Alvarez (@Canelo) November 30, 2022