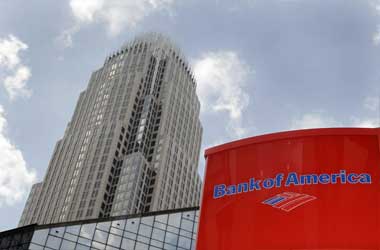 In the annual report filed with the SEC, the Bank of America has acknowledged that customers may move towards crypto currencies, forcing them to lower transaction costs.
The Bank of America has also expressed concern that huge expenses may need to be incurred to develop products that can compete with crypto currencies. Furthermore, Bank of America has also cautioned that it may fail in developing such kind of products and services.
The fear instilled upon banks and other financial institutions by crypto currencies is revealed clearly in the form 10-K filed with the SEC.
In page 10 of form 10-K, Bank of America has mentioned
"Emerging technologies, such as crypto currencies, could limit our ability to track the movement of funds. Our ability to comply with these laws is dependent on our ability to improve detection and reporting capabilities and reduce variation in control processes and oversight accountability."
Acknowledging the inability to compete with crypto currencies, the Bank of America has mentioned
"Further, clients may choose to conduct business with other market participants who engage in business or offer products in areas we deem speculative or risky, such as crypto currencies. Increased competition may negatively affect our earnings by creating pressure to lower prices or credit standards on our products and services requiring additional investment to improve the quality and delivery of our technology and/or reducing our market share, or affecting the willingness of our clients to do business with us."
The bank has also expressed fear of losing out due to inability to launch products that can compete with crypto currency market in general.
"In addition, the widespread adoption of new technologies, including internet services, crypto currencies and payment systems, could require substantial expenditures to modify or adapt our existing products and services as we grow and develop our internet banking and mobile banking channel strategies in addition to remote connectivity solutions. We might not be successful in developing or introducing new products and services, integrating new products or services into our existing offerings, responding or adapting to changes in consumer behavior, preferences, spending, investing and/or saving habits, achieving market acceptance of our products and services, reducing costs in response to pressures to deliver products and services at lower prices or sufficiently developing and maintaining loyal customers."
Notably, Bank of America leads the list of financial institutions which have filed blockchain related patents. The financial isntitution has filed 45 patents so far.
Crypto currency investors and the general public can understand the reason behind the hostile response of banks and other financial organizations towards crypto currencies.