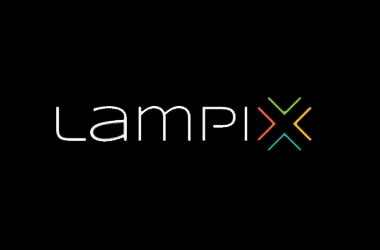 Lampix (PIX), the first hardware and software solution that turns any surface into a smart, augmented reality surface, is offering the developer kit on Kickstarter. The kit is offered only to 100 early backers and already 37 are booked. Following the good response to the offering, the price of PIX, the native cryptocurrency of Lampix has gained 76% in the past 24 hours.
Lampix is a truly interactive tabletop augmented reality system that uses machine learning and blockchain-based image sourcing to recognize, reveal and react to the visual world. Lampix joins the revolutionary list of voice, virtual reality, augmented reality and IoT edge devices that are taking the promise of the digital era to a new realm—one that's centered on creating high-value experiences beyond desktop, laptop and even mobile screens. Lampix has already partnered with BMW, Echangeur – BNP Paribas, Konica Minolta, and Bloomberg, who are augmenting their business with Lampix.
Appearance
At its core, Lampix looks like a fashionable LED table lamp, but it houses a high definition projector and camera that does more than just display your screen on a flat surface. Lampix recognizes fine hand movements and intelligently responds to an ever-growing list of real-world objects, inviting interaction on a whole new scale.
Real world usage
Conference room and cubicles. Restaurants and stores. Kitchen tables and gaming tables. They all can come to life with Lampix. From sharing and collaborating on actual pen and paper documents, to rendering visually stunning worlds for gamers, with Lampix the possibilities for developers are wide open.
Lampix: the tabletop AR computer built on blockchain. Get the Dev Kit on Kickstarter: https://t.co/MbztPzT4hK #AR #VR #Developer #HTML5 #Kickstarter #blockchain #javascript #HTML pic.twitter.com/qCMIDC10Ob

— Lampix tabletop AR (@lampix_co) March 23, 2018
Why PIX blockchain token system?
To create powerful augmented reality, Lampix as well as any other AR system first needs to understand reality. This requires powerful computer vision and lots of training data. That's why the developers created the PIX blockchain token system. PIX allows businesses and individuals to request and submit object reference images and category descriptions for the benefit of Lampix users and beyond. By building robust object recognition platform this way, the system is decentralized and open to all users and developers. This will help generate a vast, always growing database of images to power unique applications across industries.
Lampix
Reference images and revenue generation by dapp creators.
Lampix Developer Edition is made as open and simple as possible for developers to leverage the powerful object detection system with own HTML5 based apps. If a developer need reference images for app to recognize specific objects, then all that nees to be done is set a bounty and the community will offer the needed details. When the app is ready to hit the market, a developer can sell the apps for PIX tokens to generate revenue.
What does Limited Developer Edition contain?
The Lampix Developer Edition comes equipped with a fully functioning, including applications for:
• Fruit recognition and recommendation app
• Game Development
• Document scanning & sharing
• Image recognition trainer
Lampix's open API provides basic functionalities for developers to help make app development much easier. The people behind Lampix will also provide code samples, example projects and helpful API documentation. Examples of functionalities that will be provided by the API include document recognition and optical character recognition (OCR)
Production timeline
• April 15, 2018 – Kickstarter Completion
• November 2018 – First round of Lampix Developer Editions will ship
• February 2019 – Second round of Lampix Developer Editions will ship