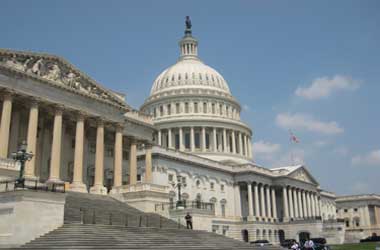 Bipartisan legislation was introduced by the co-chairs of the Congressional Gaming Caucus to repeal the 0.25% federal excise tax placed on almost all sports bets made in the U.S.
Co-chairs, Dina Titus (D- Nevada) and Guy Reschenthaler (R- Pennsylvania) stated that the tax inadvertently helps black market operators by making legal bets more expensive than illegal wagers.
The federal excise tax brought in $33 million for the government in 2019. Nevada sportsbooks contributed around $13.3 million of those taxes, the most of all states. Pennsylvania sportsbooks contributed $3.73 million out of the total haul.
Gaming firms that pay the tax are also required to pay an annual fee of $50 for every employee they have working on sports bets. The tax is not required for horse racing bets or sports wagers that are operated by state lotteries.
Titus has been a vocal opponent of the federal excise tax since 2014. Both she and Reschenthaler believe that now is the perfect time to repeal the tax. As more sports leagues are gradually coming back, the sports betting market is gearing up to resume normal operations. Both legislators believe that removing the excise tax will help operators recover past losses and strengthen the market positioning of legal sportsbooks.
Titus said that the per-employee tax must also be removed soon, to assist gaming operators' recovery and prevent them from laying off even more employees.
Reschenthaler noted that the gaming industry provides 33,000 jobs in his home state. Due to the COVID-19 pandemic, many of these jobs are jeopardized. Reschenthaler believes that repealing the federal excise taxes would make a considerable difference in helping employees retain their jobs.
The American Gaming Association's (AGA) CEO Bill Miller expressed his support for the bipartisan initiative to repeal the taxes, echoing the need to support gaming firms by reducing black market sportsbooks' advantages.
Legal Sports Betting Set for Takeoff Pre-COVID
Legal sports betting is a rapidly growing market in the U.S. Since the landmark decision of the US Supreme Court in 2018 that removed federal barriers to the activity, 18 states as well as Washington D.C. now have legal sports betting industries. Since that time, an estimated $22 billion in sports bets have been made, with $13 billion coming in 2019.
Before the COVID-19 pandemic, sports bets in the U.S were set to have another record-breaking year. In 2019, the gaming industry saw $1.9 billion in sports bets during January to February. The AGA said that during this period in 202, the figure was $3.5 billion. The COVID-19 shutdown has slowed down things but as major sports resume, expect sports betting to pick up quickly.