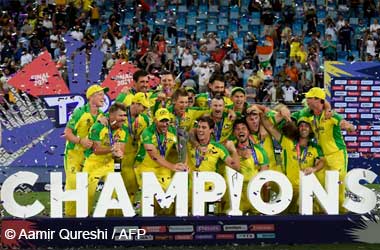 Summary
Australia Win First T20 World Cup
Mitch Marsh – Player of the Match
David Warner – Player of the Series
Australia and New Zealand both had the opportunity to win their first T20 World Cup on 14 November in the United Arab Emirates (UAE).
While New Zealand did put up a good fight, the Aussies proved to be too powerful and ended up winning the ICC T20 World Cup by 8 wickets.
Williamson Plays Captain's Knock
Australia won the toss and elected to bowl first. Daryl Mitchell was the first to go and Martin Guptill struggled to get going which slowed things down for the Kiwis. However, their captain Kane Williamson played a captain's knock and scored 85 out of 48 delivers to lay the platform for the other batters to bat around him and use the long handle.
None of the other Kiwis were able to get going and that's one reason why they struggled find the boundary. The Kiwis could only manage to get to 172/4. They had wickets in hand and in retrospect would have liked to have gone harder at the Aussies but some great bowling made it difficult for them to pull away. Josh Hazelwood was the pick of the bowlers taking 3 wickets and giving away just 16 runs in his 4 overs.
Sky News Australia
M Marsh Steals The Show
With 172 on the board, the pressure was always going to be on Australia to chase the total down. Their captain Aaron Finch failed at the top of the order once again but David Warner and Mitchell Marsh put together a fantastic partnership of 92 runs that took the game away from the Kiwis.
Warner played a sold knock scoring 53 from 38 balls to ensure that Australia was always on top of the run rate. However, it was Mitch Marsh that took the game away from the Kiwis as he played a blistering and unbeaten knock scoring 77 from 50 balls at a strike rate of 154. He received some help in the end from Glenn Maxwell who scored an unbeaten 28 from 18 balls.
Marsh who played mostly as a battling all-rounder delivered on the grand stage batting at no 3. His performance got him the man of the match award in the ICC T20 World Cup final whilst our player to watch out for David Warner walked away with the man of the series award .
New Zealand will be disappointed at losing the World Cup but will be happy with the way they played in the UAE.