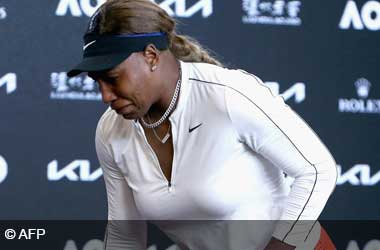 Serena Williams will undoubtedly go down as one of the greatest tennis players in the history of the game.
Her records are phenomenal with 23 grand slam victories to her name has been just one grand slam win away since 2018 of reaching the all-time record of 24 grand slam victories that is held by Aussie Margaret Court.
While Serena Williams is a future hall of famer for sure, her recent record in the last couple of years has definitely been below par the high standards that she set for herself during her prime. Serena was very keen on winning the 2021 Australian Open and getting to that magical figure of 24 Grand Slams in Australia.
She challenged herself to travel down under in the midst of the pandemic and go through the difficult quarantine process in the quest for this goal. Serena did quite well to reach the semi-finals which clearly shows that she still is one of the best players in the world. However, she was outclassed in the semis by Naomi Osaka who won 6-3, 6-4. Osaka who is our favourite to win this years tournament and is the third seed will now take on Jennifer Brady in the Australian Open final.
Australian Open TV
What will be devastating to Williams is that she has come so close to getting to that magical figure of 24 Grand Slam wins but has fallen short. Williams has reached four Grand Slam finals in the last four years and has lost all four. The 39 year old is no longer as dominant on the court as she once was and her opponents no longer fear as like before as a lot of her aura has gone.
Emotional Williams Could Retire
To say that Serena Williams was disappointed and emotional after her loss at Melbourne Park, will be an understatement. This was her 21st outing at the Australian Open and many fans believe that this was her last outing.
Serena was extremely emotional during her post match interview when she was asked if this was her last Australian Open. Williams admitted that Aussie fans have a special place in her heart and if this was her last Australian Open, she would not tell anyone, she would just walk away.
Serena has been put under a lot of pressure recently after being fat shamed in the media and being told to retire. Williams has always been a fighter and it is quite likely that she will try to play the remaining three grand slams in 2021 and see if she can break that record before deciding to call it a day.