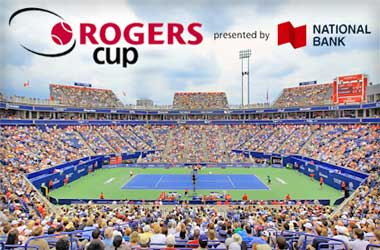 We are in Montreal and Toronto for the Rogers Cup, also often referred to as the Canadian Open, for one of the final warm-up events leading to the U.S. Open in a few weeks. These two surfaces play really similar and should be a good way for the competitors to really see where their game is at vs. some of the best in the world before the final major of the year.
This event is played on a hard court and should really mimic the U.S. Open surface as some players look to adapt from other surfaces. That being said, I will likely look to avoid players that haven't been playing on a hard surface leading up to this event.
Someone like Dominic Thiem has made deep runs in Europe the last 2 weeks on a clay surface and now has to play on his first hard surface in months.
Although he has succeeded recently, I would expect him to play much better on clay, as it is his preferred surface. I am not very interested in him due to his lack of hard court play recently.
Best Online Sports Betting Sites To Bet On The Canadian Open 2019
Mens Prediction
Favourite: Rafael Nadal (+200)
Rafael Nadal is the only member of the big three that has shown up to this tournament this year and that means there is no surprise that he is the massive favourite here at +200. Rafa has gotten a much easier draw on the top side of the bracket, which can only make an upset down the line that much harder.
Rafa is also the defending champion at this tournament, which is really encouraging to me when I am betting on someone of this calibre. Betting on tennis is a very fickle thing because these players are individual athletes in head-to-head contest and you will see players mail it in early if they struggle in a small tournament. Since Rafa won this event last year and 3 other times in his career, I know that he is showing up to win this tournament and tune up for the U.S. Open in a few weeks.
Sleeper Pick: Nick Kyrgios (+1600)
Kyrgios is one of the biggest servers on Tour and I think this is a place where he could potentially thrive off of his win in Washington D.C. Kyrgios should see more competition here, but I still think that he has the talent to win every match he plays in, even against someone like Rafael Nadal.
I am concerned that Kyrgios could be a bit tired following his long run to a championship this past week, but if he can escape the first few games and start to see the light at the end of the tunnel, I like his chances to make another run.
Longshot: John Isner (+3500)
Isner is someone that has not played that well this season besides a nice win a few weeks ago in Newport. That tournament, however, was not even close to the quality of field that he will see this week. The good news for Isner is that he has the talent to actually win this tournament if he sees things clicking at the right time.
Other Selected Odds
Felix Auger-Aliassime (+2000)
Milos Raonic (+2200)
David Goffin (+4000)
Taylor Fritz (+6000)
Womens Prediction
Favourite: Serena Williams (+800)
The women's bracket is wide open and this is why we see 5 people between +500 and +1000 as the favourites to take home the title. My two favourite choices here are Serena Williams and Simona Halep, the two finalists at Wimbledon earlier this year. The issue is that they would face each other in a hypothetical semifinals match, which makes it tough to bet both.
In this situation, I will take the better odds with Serena and go from there. If they both do make it to that point, I don't believe that Halep will be almost -200 in that match, which would mean Serena is a better value at this point.
Sleeper Pick: Angelique Kerber (+1600)
Kerber has not been playing a ton this year and her results are pretty ho-hum recently. I think that this tournament is set up well for her skillset and I do like her ability to beat every single player in this field. Kerber is an elite player when she is on top of her game.
Her draw is a pretty brutal one, but I am willing to overlook that for the price here. I think that Angelique Kerber can flash here and win it all this week.
Longshot: Julia Georges (+6600)
I really like Georges at this price here. When identifying a long shot, I want someone with a decent draw that they can advance deep enough to provide hedge opportunities and I want upside. Georges doesn't have a great draw, but she will have three or four very winnable games before facing the elite players here.
Other Selected Odds
Karolina Pliskova (+1100)
Aryna Sabalenka (+2500)
Victoria Azarenka (+3300)
Madison Keys (+3300)
Daria Kasatkina (+8000)