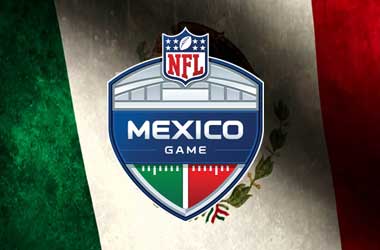 The National Football League heads South of the border for a week 11 showdown on Monday Night Football. The Kansas City Chiefs and Los Angeles Chargers will square off in a battle of AFC West Division teams. Both teams have been struggling of late, and will need to figure things out in Mexico.
The Chiefs and Chargers tied atop the AFC standings a season ago, and both teams won a playoff game.
There was some hope that both teams would return there this season, but things have not gone as well this season. Kansas City and Los Angeles can still turn things around, but it has to start in this game.
Kansas City is one of the top offensive teams in the NFL again this season, but their defense needs to improve. The Chargers have struggled to score points of late, but their defense has been. The team that establishes their identity will likely win this game.
Los Angeles Chargers vs. Kansas City Chiefs Top Betting Sites
Kansas City Chiefs
* Odds have been provided by Bovada and are accurate as of 14/11/2019
According to our friends at Bovada, the Chiefs are listed at -4.5 in this game.
Los Angeles Chargers
(4-6 Overall; 3rd Place in AFC West)
The Los Angeles Chargers are starting to get healthy again on offense, but they still can't seem to break out. The Chargers are averaging just 20.7 points per game, and that does not line up with their offense. Quarterback Philip Rivers has thrown for over 2,800 yards, but he continues to throw some costly interceptions. Running back Melvin Gordon is averaging just 3.5 yards per carry, and has not found his form after missing the beginning of the season. Simply put, the Los Angeles Chargers need to figure things out on the offensive side of the ball.
Defense has been great for the Chargers, especially in the last few weeks. Defensive end Joey Bosa has been an absolute monster, and leads the team with 8.5 sacks this season. The Chargers made life difficult for Aaron Rodgers and the Packers just a few weeks ago, and they will use that same strategy to challenge Patrick Mahomes in this game.
Current Odds: +175
Kansas City Chiefs
(6-4 Overall; 1st Place in AFC West)
The Kansas City Chiefs have battled injuries all season long, and it's really started to affect their play on the field. Injuries to both Patrick Mahomes and Tyriek Hill have set the offense back, but both players are back and close to returning to top form. The Chiefs still lead the NFL with over 313 passing yards per game, and are 5th in the league in scoring. Mahomes has some work to do to catch up in the MVP race this season, and he will be looking to sling the ball. The reigning MVP has thrown for over 2,600 yards and 18 touchdowns so far this season.
Putting together a solid defensive game is still a problem for the Chiefs, and it might keep them from winning the division. The Chiefs are allowing just over 24 points per game, but they have struggled against the top quarterbacks in the league. Kansas City can get pressure on opposing quarterbacks, and they have racked up 30 sacks per game. The Chiefs will need to be solid on "D" in this one.
Current Odds: -210
Prediction: Chiefs Office Takes Control
These two teams just have not played up to their potential this season, but they both still have a ton of talent. There will likely be a ton of points scored in this game, as both matchups a season ago were high scoring affairs. Kansas City quarterback Patrick Mahomes should be much sharper in this game, and he is going to be the difference. The Chargers will try to keep up, but they will fall short in the 4th quarter. Bet the Kansas City Chiefs -4.5 over the Los Angeles Chargers on Monday Night Football.