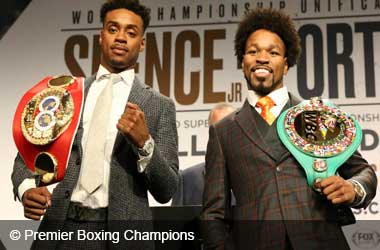 Shawn Porter finds himself once again in the spotlight, this time, against Errol Spence Jr. This unification bout is sure to be an instant classic, and many boxing fans cannot wait for the lights to shine down on these two men.
Ever since his loss to Keith Thurman, Porter has looked fantastic. Now the WBC Welterweight champ, it is truly hard to deny his greatness at this point.
For Spence, he is coming off a dominant performance over the great Mikey Garcia, and is still undefeated at this point.
Best Betting Sites To Bet On World Welterweight Unification Fight
Motivedia – Boxing
Things to Watch For
In my opinion, this has the recipe to be perhaps one of the best fights we've seen in quite some time in the boxing world. It surely isn't every day that I truly am puzzled on the outcome of a fight in boxing, but this is certainly one of them.
Both men possess fantastic footwork and have sharp jabs, which sets up their amazing combinations that often follow. On paper, I'd say Porter is the more dangerous guy, but Spence's last few performances have really shown that he is simply one of the best in the world right now, and there is no denying that fact.
As you may have noticed, I think that this fight is quite close in many areas.
However, the odds heavily lean in the corner of Spence, with them being:
Errol Spence: -800
Shawn Porter: +500
* Odds have been provided by Bovada and are accurate as of 27/09/2019
To me, boxing is too rough on someone who loses, and it weighs heavy on the odds. Make no mistake about it, Porter is completely game. He has fantastic footwork and knows how to stay at range of danger.
However, I do agree with Spence being the favourite to win here, considering he is undefeated and is coming off a massive win over one of the best active fighters in the world in Garcia.
Pick and Prediction
Ah, now the million-dollar question. As betting is concerned, I think Porter is a great pick-up. He is a huge underdog but possesses all the right traits to pull off the upset. He carries power, speed, and agility, on top of his high fight IQ.
However, logically, when dissecting this fight down, I see Spence as the one who gets his hand raised. At this point, Spence is on a mission to becoming of the of best names in boxing. With a win over Shawn Porter on his list, that sets up him for a massive fight with maybe one of the staple names in the sport.
I see Porter fighting decent, taking many of Spence's shots well. However, as time goes on, I think we'll see Porter start to fold a bit underneath the jab of Spence, ultimately limiting his movement and the amount of strikes he throws.
I don't predict a finish here, but I think Spence will steal the show around round 4, and taking this to an obvious unanimous decision victory for him and his team, potentially setting up a massive fight for him next.