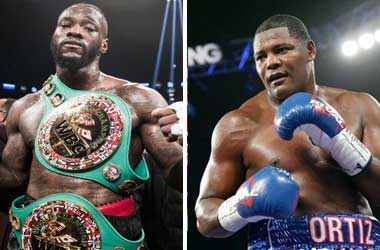 Wilder versus Fury is the heavyweight rematch we all wanted to see, but for now, we will have to settle with Deontay Wilder versus Luis Ortiz bout, which is set to take place this weekend on Sunday, November 23, at the MGM Grand In Las Vegas, Nevada.
In regards to the Wilder versus Fury rematch, it's scheduled for February 22, 2020. However, if Ortiz can cause an upset this weekend, Fury stated he will look to fight the winner of the Joshua vs Ruiz rematch, set to take place on December 7, 2019, in Diryah, Saudi Arabia.
When one door closes another one opens. So if he loses, he loses. He'll have a rematch with Ortiz no doubt. And I'll look for the winner of Andy Ruiz Jr vs Anthony Joshua on the same date
Best Betting Sites To Bet On World Welterweight Unification Fight
But before we get too ahead of ourselves, we have to turn our focus back to the weekend's bout between Wilder and Ortiz. Wilder has taken all the media spotlight due to his massive physique, raw power and incredibly long reach, which all played the crucial factor in his incredible 41-0-1 career record. Wilder has become one of the only American heavyweights who is constantly under the spotlight. Wherever he goes, he brings immense hype and expectations with him, and the weekend's bout will be no exception.
But will the 34-year-old Alabama native deliver up to the expectations or will we be in for one of the biggest boxing upsets since James "Buster" Douglas K.O'd Mike Tyson in 1990?
Motivedia – Boxing
Previous fight
The first contest between Wilder and Ortiz went down in Brooklyn, which as we all know ended in Wilder's favour. In regards of that bout, Ortiz impressed to a certain degree by using his technical boxing skills and understanding of Wilder's movement to make the fight much harder on Wilder as many had expected.
In early rounds, Wilder worked the jab, but it was Ortiz, who threw more combinations. The whole fight, however, turned on its head in the fifth round when Wilder caught Ortiz with a right hand followed by another right, which floored the Cuban fighter for the first time.
As the fight went on, Ortiz slowly ran out of steam which allowed Wilder to get himself further in the lead as he began to connect more frequently. Both fighters fought well in the remaining rounds, but it was clear that Wilder was the alpha dog of the night, which he proved again in the 10th round when he knocked down Ortiz for the second time. Despite Ortiz making it back on his feet, Wilder kept on the pressure and unleashed a fury of punches, which floored his adversary for the third and final time.
At that point, the referee David Fields waved the bout off at 2:05 mark of the 10th round, ending the thrilling and exciting battle which kept the Barclay's Center at the edge of their seat for almost half an hour.
SHOWTIME Sports
Things to Watch For
* Odds have been provided by BetOnline and are accurate as of 18/11/2019
Deontay Wilder (41-0-1)
Current Odds: -620
Wilder is entering this bout as a heavy favourite and it's easy to see why. The 6-foot-7 Alabama native is one of the strongest fighters in the game, known his incredible knockout power and dangerous right-hand, which he uses to terrorize his opponents. Adding to his incredible strength, conditioning and athleticism is also his understanding of the distance which only adds to his ability to control the fight.
And while Wilder has many strengths, his biggest one is without a doubt his incredibly high ceiling. In other words, Wilder seems to get better with every fight and from the looks of it, we can only guess when will Wilder reach his peak and how strong will he be then.
That said, even Wilder is not all perfect, as even he has some flaws. Most notable of which is his preference to throw a right, which would not be all that bad if he wouldn't ignore the jab in favour of it. Furthermore, he still has plenty of room for improvement in terms of his technical ability. That is most likely a byproduct of him being a late starter, seeing how he debuted at 20 years of age, meaning he is still playing catch up to some more experienced fighters.
Luis Ortiz (31-1-0)
Current Odds: +495
Luis Ortiz will enter the ring as a heavy underdog, which does not necessarily mean he is a flawed fighter. In fact, he is far from that. While Wilder prides himself with his incredibly strong punches, Ortiz is known for his very good counterpunches and exceptional movement, which makes him a force to be reckoned with for opponents who don't have the needed knowledge to counter that.
Furthermore, Ortiz is, unlike Wilder, a very experienced fighter who has been making waves since he was an amateur boxer. A lot of his success in his boxing career can be contributed to his strong chin and high fighting IQ. It's also worth noting that Ortiz while having weaker punches has more than enough knockout power to KO his opponents, which he has proved time and time again.
On the other hand, there are a few things we need to address which will put Ortiz in a disadvantage here. The biggest concern, or shall we say the biggest factor working against Ortiz here is his size. He is standing at 6'4″, making him the smaller man in the matchup against Wilder (6'7″). Another thing we need to mention is Ortiz's stamina or better yet the lack of it. While a well-prepared fighter, he seemingly ran out of steam fairly quickly in the first fight and seeing how he is not getting any younger (40 years) we can't expect that to change this weekend. With that in mind, Ortiz will have to start the fight hot, as he can not afford to fall behind in scorecards early, considering he will have a hard time catching up to Wilder if he gets ahead.
Pick and Prediction
There is no denying both Ortiz and Wilder are exceptional fighters, however, there can only be one winner, and based on everything we have seen, we have to side with the younger and stronger Wilder.
Being a boxing sports betting prediction, we have to ask ourselves if the offered odds on Wilder offer any value for us to bet on or would placing a wager on the underdog be a better option here. While upsets are not all that rare in boxing, seeing how it's a sport where one small mistake can turn the course of the fight on its head, we would not feel comfortable going against Wilder for this fight. Odds of -620 (Betonline) may not seem like they offer much value, but we have to keep in mind that many world-class boxing favourites are priced much lower.
With all due respect to Ortiz, who put up a very solid fight in their first bout, he is just not up to par with Wilder. Ortiz could do some damage in the opening rounds with his counterpunching ability, but as the fight enters later stages, Wilder should come out on top. We are confident predicting this fight will end in Wilder's favour and considering his incredibly strong punches, a KO win is entirely possible.
Prediction: Deontay Wilder to win by KO