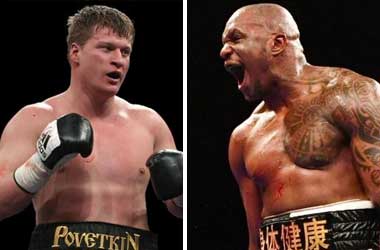 Alexander Povetkin and Dillian Whyte will clash in the ring on Saturday, Match 27 in a highly anticipated heavyweight rematch, where the Russian fighter will look to deliver another crushing blow to Whyte's world title ambitions after he already won this fight in August 2020.
The fight billed as the "Rumble On The Rock" was originally scheduled to take place on 21 November 2020, but got postponed after Povetkin tested positive for COVID-19.
The venue for the fight has yet to be set, but the bout is set to take place in Gibraltar.
Best Betting Sites To Bet On "Rumble On The Rock" Fight
Matchroom Boxing
Last fight
The first bout between Whyte and Povetkin took place on August 22, 2020, and it ended with a fifth-round technical knockout victory for the Russian, who claimed his 26th career victory. The fight was not exactly fairly straightforward for the 41-year-old 2004 Olympic gold medalist, who got hit badly a couple of times but ultimately proved himself as a more polished fighter in terms of skill set. That said, the fight could have easily ended the other way had Whyte not made a few crucial mistakes.
Whyte got himself knocked out in the first fight by making the mistake of going toe-to-toe with Povetkin and trying to exchange punches. Although he has delivered a few deadly hits, this approach proved ineffective against a fighter who has 24 career KOs. Another mistake on Whyte's part was to be inactive on the inside, however, that's nothing that can't be fixed ahead of this bout.
* Odds have been provided by William Hill and are accurate as of 15/03/2021
Things to Watch For
Alexander Povetkin (26-2-1)
Current Odds: 13/5 (+260)
Povetkin is an experienced fighter, who has had a very successful career, winning at the European Games in 2002 and 2004, the 2003 World Championship, as well as a 2004 Olympic gold medal in Athens. Despite all his accolades and the fact that he has won the first fight, the Russian veteran enters this match as a heavy underdog, which might come as a surprise, however, we have to consider ring rust and inactivity could be a factor here.
Povetkin's only career losses came at the hands of a prime Wladimir Klitschko and Anthony Joshua, which tells a lot about his quality as a fighter and it gives us a reason to believe Povetkin could repeat his success from the first fight. His KO win was definitely not a lucky punch and in the world of boxing, having a KO win against your opponent does give you a mental edge, which will work in favor of Povetkin heading into the rematch.
Dillian Whyte (27-2-0)
Current Odds: 2/7 (-350)
Having suffered a KO loss last time out, Whyte is going to be nervous heading into the rematch, knowing he is fighting for his career. A loss here could as well force Dillian Whyte into retirement, whereas a win will set him up to fight for the world title, so it goes without saying the stakes are extremely high for the Brit.
Despite his loss last time out, Whyte was boxing well. He kept the Russian at the perfect distance and was using his jab well. In a way, Whyte's best chance to win this fight is to use the same approach while doing his best to avoid exchanging punches, which will inevitably lead to his doom.
Since this is a must-win fight for Whyte, we can expect him to fight is as such, doing his best to not risk too much and instead take only the shots that can help him break Povetkin down systematically.
Prediction
Povetkin is definitely the more-skilled fighter, but due to his age, he is also most certainly on the decline and not nearly as good as he was a couple of years back. Due to his win in the first fight, it would be fair to assume he can repeat his knockout performance, but you still have to lean more towards Whyte, assuming he has learned from his mistakes.
Whyte has proven he has it in him to win this fight, either by knockout or on points and there is a solid chance he can do so if he sticks to the right gameplan. In a way, Whyte should win this fight as long as he doesn't find himself in a losing position, and doesn't get too careless trying to exchange blows with the Russian.
This is a "now-or-never" fight for the Brit, who has been waiting for a world title shot that now hangs on the result of this match. The fear of losing will likely force Whyte to approach this fight more technically aware, and as long as he can execute what he needs to do, he should come out ahead.
Prediction: Dillian Whyte to win by decision