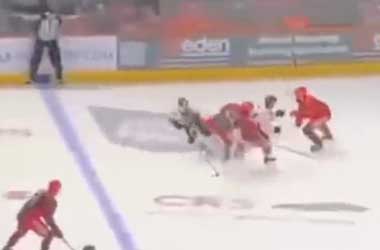 Summary:
Nottingham Panthers player Adam Johnson died on Oct 28 during after colliding with another player
The player's skate boot ended up slicing Johnson's neck and killing him
Yorkshire Police have confirmed an arrest has been made but has not named the individual
The Ice Hockey world was shocked on Oct 28 when news broke of a horrific accident that resulted in the death of 29 year old Adam Johnson who played for the Nottingham Panthers. This was during a game for the Elite Hockey League and was between the Panthers and Sheffield Steelers.
Matt Petgrave from the Steelers collided heavily with Johnson and his skate boot ended up hitting Johnson in the neck which resulted in his throat being slit and ultimately his death.
Yorkshire Police Confirm Arrest Has Been Made
The clip of the horrible accident went viral and it did not take long for fans and social media pundits to share their opinion on what they felt. Many accused Petgrave of deliberately colliding with Johnson and engaging in reckless play. A number of comments on social media called for Petgrave to be charged with manslaughter.
Adam Johnson's death was no accident. It was clearly intentional.

Just LOOK for yourself.#icehockey #Adamjohnson #Mattpetgrave #HockeyFamily pic.twitter.com/feXbplCavg

— EmpireArtStudios (@EmpireArtStudio) October 29, 2023
Yorkshire Police did confirm that they had launched an investigation into the fatal accident and urged fans to not speculate and make allegations on social media. On Oct 14, Yorkshire Police confirmed that they have arrested an individual on the basis of suspicion of manslaughter of Adam Johnson.
The police did not release the name of the individual arrested in accordance with the law but it is not hard to conclude that the arrested individual is Matt Petgrave.
In a statement, Det. Chief Supt. Horsfall said
We know these communities will expect us to handle this investigation with the same professionalism, fairness and sensitivity as any other and request that members of the public refrain from comment and speculation which could hinder this process. Our thoughts remain with all affected by this devastating incident as enquiries continue.
Support For Matt Petgrave Grows
While many fans want Petgrave to be tried for manslaughter, there are also a number of fans who have thrown their support behind Petgrave and believe it was nothing other than accident.
On Oct 13, the Sheffield Steelers returned to the Utilita Arena Sheffield where Johnson was killed and paid tribute to him before their game against the Coventry Blaze. An image of Pettgrave was shown on the screen during the game and 8,000 fans who were in the stadium gave Pettgrave a standing ovation to show their support.