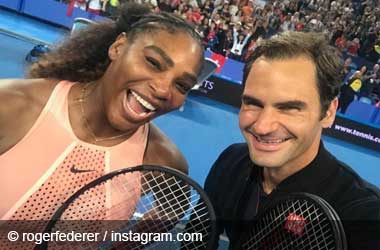 Roger Federer and Serena Williams have entertained tennis fans across the world for over a decade as they have dominated world tennis. Their dominance has never been more prominent than at the All England Tennis Club in Wimbledon.
Roger Federer has won 8 Wimbledon championships in his career till date while Serena Williams is not far behind with 7 Wimbledon championships. Both Federer and Williams are 37 years old and are not very far from calling it a day and retiring.
However, both of them would dearly like to win the 2019 Wimbledon championship as Federer has made it to the quarter-finals and Serena has booked a spot in the semis.
Federer Has A Tough Road Ahead
Two of Roger Federer's biggest rivals have also made it to the quarter-finals. The number 1 seed Novak Djokovic and number 3 seed Rafael Nadal should beat their opponents and make it to the semi-finals.
Based on the seeding at Wimbledon, Federer has a much tougher challenge in the quarter-final as he takes on the 8th seed Kei Nishikori. The Swiss great knows that he will need to be on top of his game if he is going to get his hands on his 9th Wimbledon Championship but will believe that he can get the job done as the grass courts at Wimbledon have always been his favourite place to play!
Wimbledon
Williams Will Need To Keep Her Emotions In-Check
Serena Williams has a much easier road to her 8th Wimbledon Championship on paper. Williams who is the 11th seed will take on the unseeded Barbara Strýcová and is expected to win.
ESPN UK
Williams will need to work on keeping her emotions in-check as she was fined $10,000 for damaging the practice courts. The fact that she is letting her emotions get the better of her during practice shows us the kind of pressure that she is under. Williams currently is one away from tying Margaret Court's record of winning the most number of Grand Slams. If she wins the 2019 Wimbledon Championship, it will be her 24th Grand Slam.
If Serena Williams gets past Strýcová, she will have to play the winner of the second semi-finals. The second semi-final will see the 7th seed Simona Halep take on the 8th seed Elina Svitolina.
Williams has also teamed up with Brit Andy Murray to play mixed-doubles and the two have advanced to the round of 16.