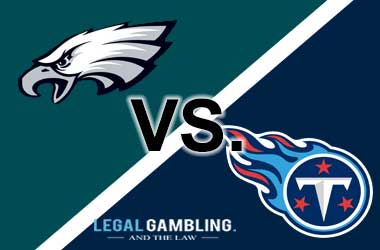 Two playoff teams from a year ago look to take their 2018 record to 3-1 Sunday.
The Philadelphia Eagles are travelling to Tennessee to take on the Titans, and both teams are coming off big wins.
The Eagles were bolstered by the return of their 2017 MVP candidate Carson Wentz at quarterback as they beat the Colts 20-16. They beat the Falcons week 1 18-12, and lost week 2 to the Bucs 27-21.
Tennessee won a defensive struggle in Jacksonville 9-6 this past week. Previously, the Titans lost 27-20 to the Dolphins in week 1, and beat the Texans 20-17 in week 2.
The Westgate has Philadelphia as 3 point favorites on the road, and an Over/Under has not been set.
Philadelphia Eagles
Carson Wentz made his triumphant return against the Colts, 9 months removed from tearing his ACL. You could tell Wentz wasn't at 100% yet, but still represents a marked upgrade from Nick Foles.
Wentz threw for 255 yards, a touchdown, an interception, and a fumble, showing a nice rapport with rookie tight end Dallas Goedert. His mobility in the pocket was somewhat limited, as he was sacked 5 times.
The running game was very much by committee in the absence of Jay Ajayi and Darren Sproles. Corey Clement (16 carries), Wendell Smallwood (10 carries), and rookie Josh Adams (6 carries) split snaps fairly evenly throughout the game. The backs combined for 142 yards, and Smallwood added a touchdown on the ground, as the Eagles had no issue finding running lanes against the Colts.
Defensively, the Eagles held Andrew Luck and the Colts in check, even though they played with a short field multiple times due to turnovers. They held the Colts to just 209 yards of total offense, and Luck accounted for 174 of it. The Colts struggled up front to contain the Eagles defensive front, as the Colts backs rushed for a combined 37 yards on 11 carries.
Injuries and Inactive Watch
S Rodney McLeod (knee) – left game and did not return, something to monitor, RB Jay Ajayi (back) – missed game, don't know how serious it is moving forward, LT Jason Peters (quad) – missed wk. 2, was listed questionable, WR Mike Wallace (lower leg) – placed on IR
Tennessee Titans
The Titans have played very competitive games through 3 weeks, with a point margin of -1 thus far. Marcus Mariota has struggled with an elbow injury throughout this early season, getting knocked out week 1, not playing week 2, and coming back this past week.
Mariota did not start, but replaced Blaine Gabbert, who got the week 2 start as well, after Gabbert was knocked out of the game on a helmet-to-helmet hit in the first quarter. When Mariota took over, he was not asked to do much against the Jaguars, as the Titans controlled the clock on the ground. Mariota was 12/18 for 100 yards with a long of 22 yards.
Running backs Derrick Henry and Dion Lewis ran 27 times for only 83 yards (3.1 YPC), but were supplemented by Marcus Mariota's legs, as he rushed 7 times for 51 yards. Wide receiver Tajae Sharp also added a 16 yard run, bringing the Titans total to 150 yards on the ground.
The defense was impressive to say the least. They did not allow a pass longer than 15 yards throughout the game, and held Jacksonville's backs to 60 yards on 14 carries. The Jags offense was hampered by penalties (8 for 75 yards), resulting in favorable down and distances, and forcing Blake Bortles to beat them through the air.
Injuries and Inactive Watch
QB Marcus Mariota (elbow) – played due to injury to Gabbert, hopefully looking better, CB Adoree Jackson (concussion) – suffered during game, did not return, OT Jack Conklin (knee)- did not play Sunday, would expect him to return this week
Matchups to Watch
Eagles WRs vs Titans CBs
Eagles OTs vs Titans EDGE/DEs
Titans RBs vs Eagles LBs
Titans iOL vs Eagles iDL
Predictions
After his first game back, it's safe to say the Eagles will be a lot more difficult to deal with following Carson Wentz's return. Wentz showed the same confidence and 3rd down efficiency that made the Eagles so dangerous a season ago. Getting those first game jitters out does not bode well for a Titans D that was diced by Deshaun Watson a week ago, and has faced two average game managers in Ryan Tannehill and Blake Bortles.
The Titans have allowed 7.1 yards per carry to quarterbacks the past 2 weeks, and that will be something to keep an eye on against Wentz. I realize he tore his ACL less than a year ago, but he is still a mobile quarterback that can threaten defenses with his legs on 3rd down. The Titans pass rush may be at an advantage, however, as Wentz was sacked 5 times by the Colts, and Tennessee features a competent pass rush with rookie EDGE Harold Landry and DT Jurell Casey, as well as timely blitzes schemed up by Dean Peas.
Pending Mariota's health, the Titans offense faces a tough task against the Eagles D. Mariota's mobility is always a threat, and Offensive Coordinator Matt LaFleur has shown his creativity through the first few games. Blaine Gabbert just doesn't give the Titans the same chance to win. Mariota looked fairly healthy Sunday, and Gabbert may be out this week anyways.
We are still giving the edge to the Eagles, and I believe they'll win the game up front on both sides of the ball. Now that Wentz has had a game to get comfortable, the Eagles offense should start to click, and the Titans offense just doesn't have the firepower to keep up, regardless of whom their signal caller is.
Final Pick: Eagles (-3)