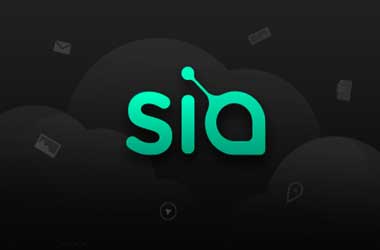 Bitcoin and other crypto currencies are considered to be valuable for the simple reason that they are decentralized. However, when a miner attempts to corner the market with an unexpected launch of a mining tool, it will inevitably lead to backlash. That is the issue that has erupted between the Chinese mining giant Bitmain and Obelisk. The former unexpectedly introduced Antminer A3 model, designed specifically to mine Siacoin, a native currency of the block chain cloud storage platform Sia. The coin is mined using the Blake(2b) algorithm.
Sia platform and its token were developed by Nebulous Labs. Later, the firm launched its own miner Obelisk. The ASIC crypto currency miner was in pre-sale since 2017. Two variants, namely the Decred crypto currency miner DC1 an Siacoin miner SC1, are currently available. The shipment of the first batch is expected to begin in June 2018. The data provided in the Obelisk's website indicate that the company has sold 3,598 and 1,585 SCI units were sold in the first and pre-order batch, respectively.
Now, the introduction of Antminer A3 model, with the ability to mine crypto currencies using the Blake(2b) hashing algorithm, has lead to a tug of war between Obelisk and Bitmain. Bitmain has announced that Antminer will be sold infrequently for around $2,375 to discourage vendors from placing bulk orders and the shipment will be made within ten days, following the receipt of full payment. The decision was taken based on the rush seen in the past to place orders for Bitmain's Bitcoin S9 miners, as well as the Dash D3 and Litecoin L3+ miners.
Bitmain has got into controversy in the past, by supporting Bitcoin Cash. The company's mining pools, Antpool and BTC.com account for over 29% of the world's hashing power. Furthermore, nearly 70% of Bitcoin miners use Antpool hardware. Some crypto currency experts have opined that it puts the entire decentralized nature of crypto currencies questionable.
Obelisk founder Davd Vorick has posted a warning to Bitmain on the Reddit forum. Vorick has stated that a soft fork to disable A3 miner's ability to mine Sia coins will be activated, if needed.
Vorickstated
"Bitmain has a long history of being abusive towards coin communities, their customers and towards coin developers. We prepared for something like this by adding an extra feature to the SC1. We can do a soft fork that slightly changes the PoW algorithm which would invalidate the Bitmain ASICs, but allow the SC1 units to continue working. In the event of an attack from Bitmain, we can activate this soft fork."
Further, Obelisk founder and Sia platform's lead developer, known by his nickname Taek, has made it clear that a software fork will happen only as a last resort to protect users who have ordered Obelisk miners.
Taek said
"At this time, I do not think it is necessary, but if they start mining empty blocks or otherwise prove problematic for the network, we have recourse that does not involve destroying the usefulness of the SC1 units. This fork would, of course, require community adoption, it's not something the devs could decide to activate on their own. It would be a UASF because the majority hashrate would not be standing behind the soft fork."
Vorick also confirmed that the final decision to fork Sia coin will be taken after taking the opinion of the mining community into consideration. Vorick stated
"Overall, I do not think we have much to worry about. Hopefully (and very likely), this soft fork will never be necessary. But I wanted to remind everyone (including Bitmain) that, at the end of the day, it is the community that has control, not the miners. If ASIC manufacturers act in a way that is harmful to the network, we have recourse."
As such Bitmain has not broken any rules. However, it is nice to see a developer stand up to a company which is trying to go to any extent to have a near monopoly over the crypto mining hardware market.