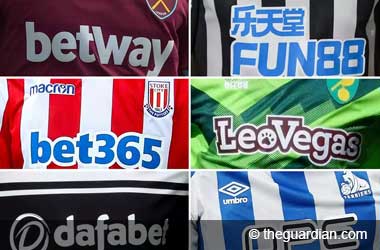 Summary
New restrictions include maximum stake limits, a ban on free bets, and affordability checks
UK Gov. could make a U-turn on betting shirt sponsorship ban and RET levy
The publication of the UK's Gambling Act review has been postponed to July
The UK government will implement additional restrictions on online gambling in a bid to make the UK the safest place to be online in the world. However, officials are apparently at odds with each other on the issue of betting shirt sponsorship ban and mandatory levy.
Tighter Technical Controls for Online Gambling
According to media reports, officials are eyeing to impose tighter controls on the online sector as part of a major industry shake-up aimed at ensuring gambling regulation is fit for the digital age.
The online gambling industry should brace for new restrictions which could see maximum stakes at online casinos being capped at between £2 and £5. Free bets and VIP packages could also be entirely banned for gamblers incurring heavy losses, with "non-intrusive" affordability checks also in the pipeline.
These measures are likely to be included in the UK government's White Paper on gambling reform which has been delayed yet again after the Department for Digital, Culture, Media & Sport (DCMS), the agency overseeing the review, pushed its publication back to July.
Should the government proceed with implementing such technical constraints on the online gambling sector, revenues generated by operators would reportedly drop by an estimated £700 million.
Gov. Likely to Drop Sponsorship Ban, Mandatory RET Levy
There are speculations a conflict is brewing among government officials on key areas, including the proposals to prohibit gambling firms from sponsoring Premier League football clubs. The government has reportedly made a U-turn on this measure which will not sit well with gambling reformists.
The proposed ban, which was announced back in May and was believed to be at the forefront of the UK gambling reform, has reportedly been reversed following backlash from the gambling industry. The government will still keep the option of legislation in reserve, according to reports.
The government could also drop plans for a statutory levy on operators that would help fund research, education, and treatment (RET) programs and initiatives. The proposal, which has been the subject of discussions in recent months, is being backed by NHS governors who earlier called for an overhaul of the country's existing RET funding structure.
These issues could once again delay the publication of the White Paper, though the DCMS said it is keen on releasing the documents "in the coming weeks".