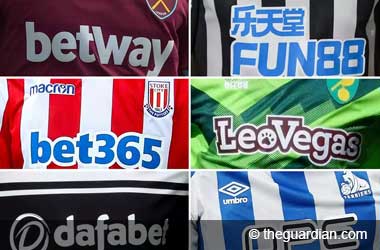 Various experts on the growing issue of problem gambling in the United Kingdom (UK) have weighed in on the increasing number of football clubs being sponsored by online casinos and betting companies as worrying and disturbing. They also argued it is time to start a national debate in England on the possible danger of blatant gambling sponsorships.
This season almost 60% of squads in the top two English divisions will have the names of gambling companies on their football jerseys. That includes almost half of Premier League teams and nearly three-quarters of squads in the Championship division.
In fact, all three divisions of the English Football League (EFL) are sponsored by Sky Bet.
Some of the other prominent gambling sponsors include Bet365, the Mansion Group, dafabet and Fun88.
British pro athletes are not permitted to place wagers on any football matches or endorse any betting brand personally. In 2017 the controversy involving the ban of Joey Barton for betting caused the Football Association (FA) to end its business partnership with Ladbrokes.
Anti-Gambling Campaigners Concerned
Problem gambling has become a serious issue in the UK and the government along with the UK Gambling Commission are taking aggressive steps to address these concerns.
In a statement, Jim Orford, Professor of Gambling Watch UK said
This is worrying. There is evidence that gambling is becoming ever more normalized, particularly among young people, so that increasingly betting is seen as part and parcel of following and supporting one's favourite sport or team.
The Gambling Commission's latest statistic reports 430,000 UK adults are problem gamblers. Meanwhile, another two million people are in danger of developing an addiction to gambling. Another shocking statistic is that 370,000 children between the ages of 11 and 16 place wagers weekly and 25,000 of those gamblers are classified as problem gamblers.
GambleAware's chief executive Marc Etches says one of the main reasons why they are concerned over the massive betting sponsors involved in football is because football fans have started to believe that it is mandatory to place a wager on your favorite team in order to fully enjoy the beautiful game.
EFL Looking To Promote Responsible Gambling
An EFL spokesperson argued sponsorship contracts with gambling companies are significant in helping professional football teams stay afloat financially. Meanwhile, he added the league has taken steps to make sure its relationship with Sky Bet is socially responsible.
In addition, the EFL's campaign for responsible gambling will involve players in each division wearing special sleeve badges. It will also require each club to provide training about gambling's risks.