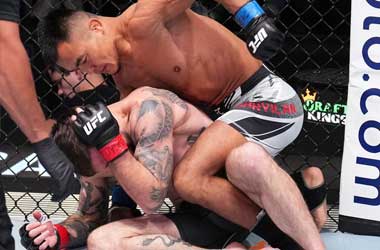 Summary
UFC says betting integrity partner Don Best Sports will investigate the matter.
The organization does not feel the match was compromised.
U.S. Integrity is also investigating the matter.
Ahead of UFC 281 which takes places next weekend, a UFC match involving Darrick Minner and Shayilan Nuerdanbieke came under scrutiny due to suspicious betting behavior.
Investigations are ongoing and the UFC came out with a statement yesterday revealing they do not feel that the match was subject to unethical or irresponsible behavior.
Official Statement Released
The UFC responded officially on Monday with a statement regarding the matchup between Minner and Nuerdanbieke. The UFC works with Don Best Sports to ensure the integrity of services and wagering activity on events.
According to the organization, Don Best Sports will complete a review of the match and report its findings. Right now, the UFC does not feel that the athletes in the match, or anyone associated with the two teams acted unethically.
A Quick Finish in the Match
The fight between Minner and Nuerdanbieke took place on Saturday and ended quickly during the first round. Several sportsbooks noticed odd betting patterns during the match and alerted U.S. Integrity, a group that is now investigating the fight.
In the beginning, Minner was listed as the underdog, and it was expected that Nuerdanbieke would earn the win easily. Players betted heavily on the favorite that a knockout would take place in the first round. Some sportsbooks eventually took the fight off of the board.
By Saturday, rumors began swirling that Minner was injured, and the odds shifted even further into Nuerdanbieke's favor hours before the fight. Thirty seconds into the match, Minner kicked Nuerdanbieke and the favorite was clearly in pain.
Minner kicked again, but Nuerdanbieke returned with a knee to Minner's head to win. The TKO took place at 1:07 in the first round. Sportsbooks were then suspicious of the unusual betting before the fight, as three hours before it began to become alarming. Betting continued on the worse odds and sports betting companies felt this was odd.
Sportsbooks and fans seem to have varying opinions on the match. Some feel that Minner threw the fight and others think the bets were placed based on the rumor that Minner was hurt before the match.
Just last month, the UFC announced that its fighters and teams are not allowed to wager in UFC fights. The decision was made as part of a directive from regulators involved in sports betting across the US. Many states do not allow betting for fighters and teams on events they are affiliated with.