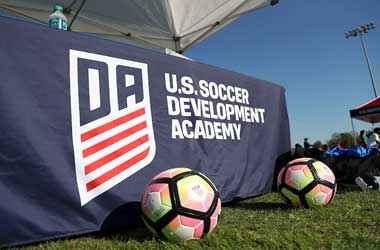 The U.S. Soccer Federation (USSF) released a statement earlier this week affirming that they will be eliminating its Development Academy (DA), a youth league comprised of various age groups for boys and girls, in short order. According to their statement, the decision was driven primarily by the financial standstill imposed by the COVID-19 pandemic on sports leagues around the world.
The USSF's DA was launched in 2007 to shore up the player development of young U.S. soccer players, and hoped to create a culture of long-term player improvement and dedicated practice. In addition to the financial costs of the Development Academy, the USSF may have also been influenced by the complaints at how it was governed.
It is with profound disappointment that U.S. Soccer has made the determination to end the operation of the Development Academy, effective immediately. pic.twitter.com/WdnmrsIqZr

— Development Academy (@ussoccer_da) April 15, 2020
Youth teams from outside the Major League Soccer's (MLS) system have long complained that the USSF is favoring MLS academies in their competitions. One glaring example is the USSF's decision to impose a tiered system for the under-18/19 level, which led to the demotion of Crossfire Premier out of Redmond, Washington, despite its history of success against MLS academy squads.
Stefano's Training Systems
The DA has also barred players from competing for their high schools, and enacted strict coaching requirements on their squads, leading to prominent girls' clubs Real Colorado, North Carolina FC and Dallas Texans to switch from the DA to the Elite Clubs National League (ECNL). Some teams also decried the DA's lack of games, and the extensive costs needed to compete in the league, due to the geographical distance between some teams.
Currently, six squads have already joined the ECNL.
MLS to Create New League
The news coincides with the MLS' announcement that they will be creating a new league for its academy squads, which may allow non-MLS youth teams to compete. Teams from the MLS have long stated that non-MLS clubs engaged in easy competition.
According to the MLS executive vice president for competition and player relations Todd Durbin, they have engaged in talks with the USSF over the last year and a half over concerns with the DA's competition level. Durbin stated that, because soccer is a worldwide sport, it was important for U.S. soccer to compete against the best in the world in order to develop their skills.
Durbin stated that the new MLS youth league has yet to be set up, but promises to organize regional and national tournaments with the participation of international clubs to hone U.S. youth squads' soccer skills. They have yet to reach out to non-MLS teams, but hope to do so soon.