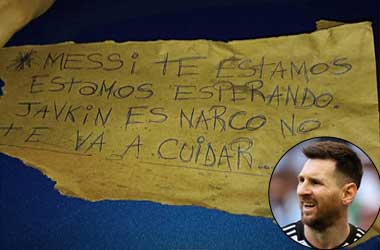 Summary
Gunmen on a motorcycle have shot up a grocery store owned by Lionel Messi's in-laws
Over a dozen shots were fired but nobody was injured
Messi was left a threatening note which said the gunmen were waiting for him!
Lionel Messi is arguably the most loved individual in Argentina right now as he helped his country create history and win the 2022 FIFA World Cup in Qatar after 36 years.
The Argentinean captain has hinted at international retirement after winning the FIFA World Cup but continues to play for his Paris Saint-Germain club in Paris, France.
Gunmen Attack Messi's In-Laws Store and Leave Threat
It appears that not everyone loves Messi in Argentina based on a drive by shooting that took place at the Unico supermarket in Rosario which is the 3rd biggest city in Argentina and the birthplace of Messi. This particular supermarket is owned by his wife's Antonella Roccuzzo family.
The authorities claim that two men on a motorcycle fired over a dozen rounds at the supermarket during the early part of the morning. No one was injured in the attack and the authorities confirm that it wasn't a random shooting as the attackers left behind a very clear message to global football star.
The message was written on cardboard and read
Messi, we are waiting for you. Javkin is a drug dealer, he will not keep you safe
Federico Rébola, a prosecutor in Rosario said that this was the first time that Messi's in-laws had received a threat of this nature. The authorities are yet to release any significant information as the investigation is still in the preliminary stages. Lionel Messi is also yet to release a statement (as of this writing) on the attack!
Javkin Releases Statement And Expresses Concern
While Messi is yet to release a statement, Pablo Javkin who is Mayor of Rosario and a politician opposed to the current Peronist coalition which is in power in Argentina has released a statement and admitted grave concern.
In a statement, Javkin said
I doubt everyone, even those who are supposed to protect us. Where are the ones who need to take care of us? It's clear that those who have the weapons and have the possibility of investigating the criminals aren't doing it, and it's very easy for any gang to carry out something like this.
Security Minister Aníbal Fernández played down the attack and said drug related violence has been common in Rosario for the last 20 years.