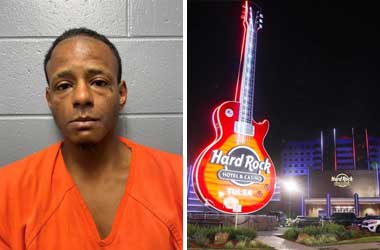 Police found an improvised explosive device inside an unattended bag at the casino.
Cherokee Nation security alerted authorities once the bag was located.
Zachary Schmidt was arrested for leaving the bag at the casino.
Over the years, security personnel at casinos have figured out what to be suspicious of. It might be a visitor's behavior or actions, as well as just the overall vibe from the casino floor. Fights are often broken up or people removed for unruly behavior.
Rarely are there instances of bombings at casinos, but anything can happen. Take for example what happened at the Hard Rock Casino Tulsa this week. A suspicious bag was noticed at the venue, unattended, and ended up housing a homemade bomb.
Bomb Found on the Premises Outside the Casino Hotel
On Tuesday evening, the Hard Rock Casino security team found a suspicious bag outside the Hard Rock Hotel. The bag was unattended and appeared to have been left in the spot intentionally. It was placed near the northeast staircase of the facility.
Security guards inspected the bag and found it housed an explosive device that appeared to be homemade. The security officials contacted the Alcohol, Tobacco and Firearms organization (ATF) as well as the Tulsa bomb squad.
ATF Resident Agent in Charge Ashley Stephens says that the quick decisions of the security staff likely saved lives. Stephens said that the quick action of security was excellent. They kept a lot of people safe in a potentially dangerous situation by identifying the bag and treating as they did, plus contacting experts to help in the situation.
Who Left the Bomb at the Casino?
After AFT agents arrived on the scene, an investigation began into who could have left the bag at the casino. Security footage was reviewed, and a few individuals of interest were seen. Several agencies worked in unison to try and piece together what happened. Eventually, an individual named Zachary Schmidt was taken into custody.
He was found inside the casino and was arrested for leaving the bag outside the venue. Schmidt admitted that he had the bomb but did not make it. He claims to have found the bomb while diving into dumpsters.
Schmidt has been booked on an explosives charge regarding the matter. Whether he meant to harm anyone by placing the bomb bag where he did remains to be seen. Either way, the explosive would have caused harm in some form or fashion if it went off. People within a close proximity of the device could have been injured or killed.
Thankfully, security officials of the casino were able to assess the situation correctly and take the appropriate steps to keep patrons and employees of the Oklahoma casino safe from harm.