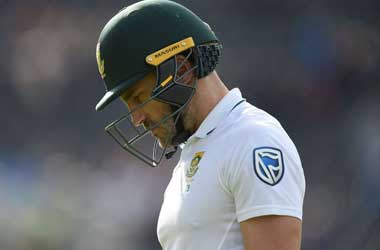 When it comes to cricket, it is pretty normal for sides to win test series on home soil and lose on overseas tours. The one team that has defied that logic for a number of years has been South Africa, as they have proven on a consistent basis that they have what it takes to win in overseas conditions more often than not.
South African cricket is changing and not for the better as the Proteas suffered their first series defeat in England since 1998 after they lost the four match test series 1-3. What will concern South Africa is the manner in which they lost the three test matches as they did not put up much of a fight and looked very much like a South African A side. We take a look at the key reasons why South Africa performed so poorly in England.
South Africa played the first test without captain Faf Du Plessis who stayed at home for the birth of his first child and stand in captain Dean Elgar looked out of place in the first test which the Proteas lost. Faf Du Plessis returned for the second test and the Proteas won that comfortably.
England & Wales Cricket Board
Dale Steyn, the South African spearhead for over a decade missed yet another test series due to his recurring shoulder problems. Even if Steyn returns, it is highly unlikely that he will be able to bowl as fast as before.
There are some who believe that AB Devilliers has put himself before the country and skipped the test series against England because he wants to save himself and focus on T20 leagues around the world as it brings him more money. Devilliers is one of the best batsman in the world and his absence was sorely missed by the Proteas.
Vernon Philander was the man of the match in the second test and was expected to be a key player for South Africa. He suffered a stomach bug in the third test and was under bowled and missed the fourth test due to a stiff back. Captain Du Plessis wasn't very impressed with Philander and has called him out in the media for being a senior player who does not play a full series due to poor fitness levels.
Faf Du Plessis is the captain of the side and expected to lead from the front. However he will be the first to admit that his performance with the bat has been below standards and that has seriously impacted South Africa's middle order.
South Africa have to regroup pretty quickly as they have two tough home test series coming up against Australia and India.