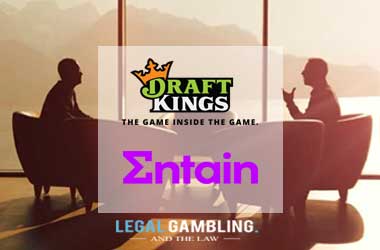 DraftKings started out as a Daily Fantasy Sports (DFS) betting operator but has now turned into one of the biggest sports betting operators in the United States. DraftKings is currently showing interest in acquiring major British gambling operator Entain. DraftKings had time till Oct 19 (5 pm) British Standard Time to make an official offer to acquire Entain. DraftKings did not make an official offer but instead both companies released statements announcing an extension of their negotiations into November.
Entain is one of the biggest operators in Europe and runs a number of popular brands including Coral, Sportingbet and bwin. DraftKings will significantly expand its global presence, especially in Europe with this acquisition which is reported to be in the range of $22 billion.
The announcement about the negotiating extension is to comply with UK law. When a company plans to take over or merge with another in UK territory, there is a deadline for making a formal. Both companies agreed to the negotiation extension which is now set for November 15. Entain has already released details of the proposal made by DraftKings on September 21 with the purchase involving stock and cash transfers.
While the $22 billion proposal is attractive, there are other factors at play. Back in 2018, Entain partnered with MGM Resorts to set up its BetMGM sports betting arm. MGM released a statement earlier which said if Entain is going to merge with any competitor of MGM in the U.S, they will need the consent of MGM.
Understandably, MGM should be worried and the question should be asked whether MGM should make a counter offer. BetMGM is one of the top sportsbooks in the U.S. If the Entain-DraftKings merger goes through, then it will pose a big challenge for MGM Resorts.
CNBC Television
Big Consequences
The proposal from DraftKings to acquire Entain will be the biggest acquisition of a betting firm since the Supreme Court struck down Professional and Amateur Sports Protection Act of 1992 (PASPA) in 2018. Entain has already rejected an $11 billion acquisition attempt by MGM Resorts back in January 2021. With double the amount at stake, Entain will be giving this proposal serious consideration.
If successful, then DraftKings would have the perfect chance to expand in Europe. The company has always been limited by its beginnings as a fantasy sports platform. With the technology that Entain brings to the table, they could soon become one of the biggest gambling operators in the world.