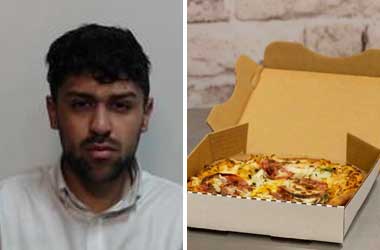 Summary
Genting Casino Fountain Park in Edinburgh was robbed in August 2021
Hassan Fallah was convicted after his plans were found on a pizza box
The authorities are yet to recover over £48,000 in chips/cash
Employees at the Genting Casino Fountain Park in Edinburgh were shocked on 9, August 2021 when an armed robber entered around the early parts of the morning and threatened one of them with an army knife.
The alleged robber was 23 year old Hassan Fallah who has a criminal record. Fallah served a 13 month prison term for possession of a knife, shoplifting and racially abusing and assaulting security staff. He was only out of prison for 4 months before he decided to rob the UK casino once again.
Fallah is alleged to have threated staff with the knife and forced them to fill his bag with cash and casino chips. He is alleged to have stolen a total of £7,345 in cash and £40,800 in casino chips. He took the bag and left the casino but it did not take long for the authorities to track him down and find incriminating evidence.
The police tracked him to his hostel and found a pizza box where he had written down a blueprint of his robbery plans which were not quite to the same level as some of the most daring heists in Las Vegas. They also found a notebook which outlined his plans to bury the casino chips and hide the stolen money with a warning to himself to not spend too much over the money in stores in order not to attract attention.
His laptop also provided more evidence as his browser history contained searches of 'Genting Edinburgh', 'casino anti-surveillance' and 'casino rob'.
Court Hands Out 4 Year Prison Sentence, Funds Not Recovered
While the authorities were quickly able to nab Fallah, they were unable to recover any of the stolen money or casino chips. However, they did get Fallah to agree to plead guilty and as a result, a High Court in Edinburgh sentenced him to a 4 year prison term.
None of the casino staff were injured during the robbery but the High Court decided that a 4 year term in jail was justified given his past history and the distress that he had caused to employees at Genting Edinburgh.