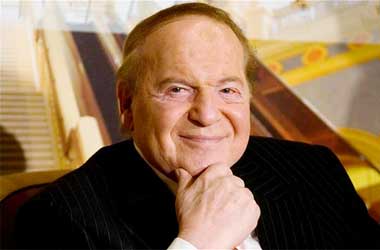 Sheldon Adelson, casino mogul and chairman of Las Vegas Sands, an avowed opponent of online gambling has asserted that poker is gambling and not a game of skill. Contrary to how the poker industry views the game, Adelson said that the game inherently has all the features of gambling. Adelson has been at the forefront of the campaign to get online poker banned in United States for a long period of time.
In a statement, Adelson said
They say poker is a game of skill. I don't know how skill can apply to somebody shuffling a deck of cards and randomly giving them out to you. You don't have any control over it. Can somebody bluff and can somebody place bets better than somebody else? Yes. But that doesn't make poker a game of skill.
Adelson made the remarks as a part of a discussion on the legality of daily fantasy sports (DFS) which has been labeled as gambling in majority of states in America. According to him, DFS is also gambling and he has said that he opposed it because he considers it exploitative.
The debate over poker being a game of skill or chance has been raging for a number of years now. Many in the industry consider the game to be one of strategy and human psychology rather than a game of chance. Particularly when looked at in the long-term and not just a single session, the game is seen to require a lot skill in order to win games consistently.
A U.S. federal court in 2012 had declared poker to be a game of skill for possibly the first time after evaluating testimonies that included proof that that the game can be used to make a living. After analyzing 415 million online poker hands, it was found that even within a few hands, skill had more weight-age than chance in recording wins.
Although the law in many states currently includes poker under the category of gambling, few states have tried to reframe it as a social game. For example, Maryland has eliminated penalties for hosting home poker games within specified regulations.
The debate over DFS is still ongoing as Attorney Generals from several states have declared that DFS is equivalent to casino gambling and must have a gambling license to offer cash games in their respective states. The DFS industry is battling this with intense lobbying efforts. Around ten states have passed special bills to regulate the industry, eight of them in the past few months.