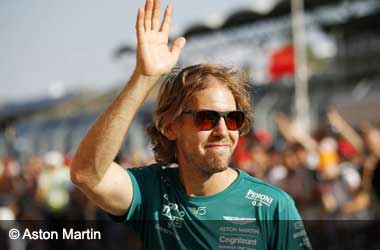 Summary
Sebastian Vettel to walk away from F1 this year
Vettel is one of the greatest F1 drivers to have graced the track
Vettel says he is excited about stepping into the unknown and living life
German racing pro Sebastian Vettel is regarded by his peers as one of the best F1 drivers to have graced the track. The 35 year old who drives for Aston Martin surprised his fans when he announced that he will retire from Formula One at the end of 2022.
Sebastian Vettel started his F1 journey back in 2007 and made his mark rather quickly on the sport when he became the youngest F1 champion at 23 years old.
He was at the peak of his success when he raced for Red Bull and won 4 consecutive F1 titles from 2010 to 2013 and has a total of 53 F1 wins on his resume so far.
There are only three F1 drivers in the history of the sport that have more F1 championships to their names and they are Michael Schumacher, Lewis Hamilton and Juan Manuel Fangio and only Schumacher and Hamilton have more than 53 wins on their resume.
Vettel hasn't enjoyed a lot of success in recent years as his long-time rival Lewis Hamilton has dominated F1 proceedings. Vettel's last win was back when he was with Ferrari and he won the Singapore Grand Prix in 2019. He parted ways with Ferrari and has raced with Aston Martin during 2021 and 2022.
Vettel Not Sure What His Future Holds After F1
Vettel told his fans that he decided to walk away from F1 and call time on his career at the end of the season because he is at a stage in life where he wants to spend more time with his family and pursue other things apart from F1.
He admitted that this was a big decision for him as he is unsure about his future and not certain what he is going to do in life once his time with F1 racing comes to an end. Vettel also said that he was also happy to walk away from the sport because he is aware of climate change and what racing cars end up doing to the environment!