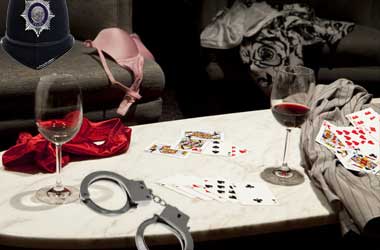 Summary
Scottish caught with their pants down
Viral video shows three cops playing strip poker
Police target viral video creator
Scottish police are a little embarrassed right now after a viral video made the rounds showing three cops playing strip poker.
The video literally has caught the police with their pants down as they were filmed in a third storey apartment playing poker in the UK naked.
Once the police confirmed that this was a genuine video and wasn't morphed, they confirmed that they officers involved came from Argyll and Campbeltown.
The names of the officers involved in the game of strip poker has not been released so far but the authorities have confirmed that they have launched an investigation into the same.
Police Scotland issued a statement and said that the viral video was a slap in their face and they termed the game of strip poker ridiculous. It appears that a criminal trial will take place and the officers involved could end up losing their jobs if they are found guilty.
However, a senior police officer who preferred to remain anonymous said that too much attention was being given to this matter. He said that the video went viral only because they were police officers. He expects the case to be settled before it goes to court. The officers involved have allegedly been transferred to another location for now.
Police Target Viral Video Creator
Police Scotland are also standing behind their own as they have now decided to crackdown and find out who the creator of the viral video is. Since the game of strip poker took place on the third storey, it had to be someone who was on a similar flow and had a good view of what was going on in their apartment.
The authorities claim that all individuals involved in the game of strip poker were consenting adults and had done no crime as they were behind closed doors. The big mistake they made was not pulling their curtains down and getting caught on video literally with their pants down.
The authorities are investigating if there is a possibility to prosecute the viral video creator as they have filmed a private gathering without their consent and then distributed the video on social media.