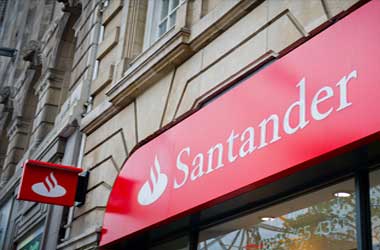 Santander, the Spanish banking group, announced that it will launch an international money transfer app in partnership with RippleNet – provider of blockchain based real-time cross border fund transfer platform – in the next few months. The decision was announced by the bank's UK CEO Nathan Bostock.
The new app is expected to go live in the UK, Spain, Brazil, and Poland. While speaking at the International Fintech Conference in London on Friday Bostock said
"This spring, if not one beats us to it, we will be the first large retail bank to carry out cross-border payments at scale with blockchain technology."
Bostock did not provide any specific data for launch of the new product. The bank had invested in San Francisco-based Ripple in 2015 and again in 2016. Santander began testing Ripple's payment facility in 2016. While presenting the group's 2017 results at the end of January, Santander CEO Ana Botin flagged the upcoming launch to customers of the payment app. Last month, the bank announced that it will launch mobile payments with Ripple's xCurrent platform.
Ripple has seen a phenomenal success in the recent past. Around Christmas last year, SBI Ripple Asia announced that they have partnered with three major credit card providers in Japan to improve user experience, solve a variety of issues, and increase efficiency through Ripple's block chain technology. The participating credit card companies are JCB, Sumitomo Mitsui Card, and Credit Saison.
In early January, MoneyGram (NASDAQ: MGI) signed an agreement with Ripple to test the latter's network. By January end, IDT Corporation, a publicly traded New Jersey-based telecommunications provider, and MercuryFX, which offers discounted currency exchange rates, signed an agreement to start using Ripple's xRapid platform. In February, the National Bank of Abu Dhabi announced that it will use use Ripple's block chain solution to send real-time cross-border payments to its customers. The bank also signed deals with the UAE exchange, IndusInd, the Central bank of Saudi Arabia, and Cambridge payments, among others.