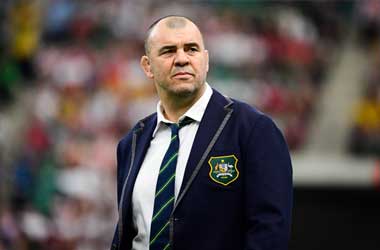 Australia took a pounding during their 2019 World Cup quarter-final match against England and went down 16-40. It was a pretty one sided game as the Australian's were outplayed and outclassed in both halves.
Aussie fans would have accepted a loss more gracefully had the team put up a good fight and made it a close contest. However, some bizarre tactics deployed by head coach Michael Cheika let the team down and also resulted in him resigning from his post 24 hours after the loss.
Michael Cheika served as head coach for the last 5 years and his results have been a mixed bag. He started out well, head reasonable success in the middle and blew it towards the end of his tenure. His tactics during the quarter-final received criticism from ex-players as well as senior rugby commentators who called them extremely selfish.
Rugby.com.au
The most damaging remarks though came from Australian Rugby Union CEO Raelene Castle who labelled his legacy with the wallabies as 'incredibly disappointing'. She went on record to claim that the Australian rugby has gone through a challenging period during the last few years and claimed the board wasn't satisfied with the results.
Many Aussie rugby fans believe that loud-mouthed Michael Cheika should have been given his walking papers a long time ago and a new coach should have been appointed before the World Cup.
Former English player Ugo Monye said that Cheika let his players down by being incredibly stubborn about his tactics. He said Cheika came up with a gameplay that did not revolve around his bunch of talented players but revolved around him.
Cheika finished with a 50 percent win rate under his leadership.
New Coach To Be Appointed Before Christmas
The search for a new head coach will commence this week and an appointment is expected to be made before Christmas. There are a number of candidates who will be interested in the position but it appears that Kiwi Dave Rennie is the frontrunner to clinch the post. The other two candidates of interest include current England coach Eddie Jones and Ireland's coach Joe Schmidt.
Rugby Australia stated that they are not only looking to bring on a new head coach but to also make a number of improvements to their high performance pathway as they look to revive Australian rugby.