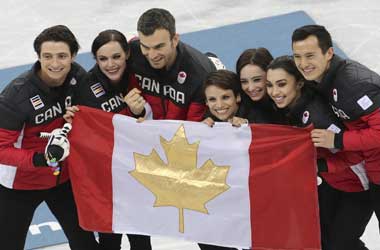 Most countries at the 2018 Winter Olympics in Pyeongchang, South Korea rested their best skaters from taking part in the Team Figure Skating event. They wanted their best athletes to rest for the individual events. Team Canada came out with their best skaters and took the gold medal for team figure skating event which was held earlier this week.
The gold medal is the first medal for Canada in the 2018 Winter Games. The first place finish is a redemption story for Team Canada after a heart breaking silver medal finish in the 2014 games.
The redemption story came from world champion Patrick Chan who won bronze in 2014. Chan was able to recover from two early falls in his routine to win the men's free skate.
Chan skated to 'Jeff Buckley's cover of Leonard Cohane's Hallelujah' and scored 179.75 in the event. Chan's victory in the men's free skate was just the icing on the cake as it was Gabrielle Daleman's third place finish in the women's free skate which gave Canada a lead which the other teams could not catch up to.
Toronto Star
15 Yr Old Skater Helps Win Silver for OAR
The Olympic Athletes from Russia (OAR) secured the silver medal after Alina Zagitova put in an amazing performance to win gold in the women's free skate event. OAR which skated under the Russian flag in the 2014 games, were the gold medal winners in Sochi but many medal wins for Russia came under scrutiny after it was found that many athletes were part of the state-funded doping program.
The International Olympic Committee (IOC) banned the Russian flag from flying in Pyeongchang, making it the first time in Winter Olympics history that the IOC has done so. The IOC did however give the Russian athletes who did not join the doping program a chance to compete as the OAR.
Historic Triple Axel Landed For US
Rounding out the medal podium was the US Team who were considered by many as the most entertaining. The charge for the podium by the US was led by Mirai Nagasu who landed a very difficult triple axel becoming the first American woman to land the move. The most interesting part of Nagasu's performance was the fact that she did not even make the 2014 team. She finished in second place behind Russian Alina Zagitova.
In a statement, Nagasu said
Four years ago, when I was left off the team, I wanted to make another Olympic team, and I knew I would really have to be something special. So to become the first American to land a triple axel at the Olympic Games is historical, and no one can take that away from me
ABC News