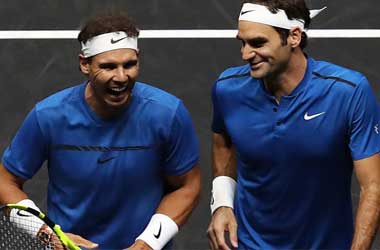 Roger Federer and Rafael Nadal have been friends off the court but fierce rivals for well over a decade.
The two veteran tennis pros who are seeded 2 and 3 respectively will once again do battle in the second men's single semi-final to see who will book themselves a place in the 2019 Wimbledon final.
Tennis fans around the world have been treated to some epic matches over the years as Federer and Nadal bring out the best in each other.
To give you an idea of just how dominant the two players have been, they have a total of 38 Grand Slam titles between them and share over $100 million in combined prize money.
Federer who will turn 38 in August is at the end of his career and there is nothing that he would like more than to beat his long-time rival on Centre Court and lift his 9th Wimbledon Championship. The last time these two players met was during the semi-finals at Roland Garros which Nadal won.
Wimbledon
This time around, Federer should have the edge because grass is his favourite surface. He had a shaky start to his quarter-final match against Kei Nishikori losing the first set 6-4 but bounced back to win the next three comfortably 6-1, 6-4, 6-4. However, he knows that his match against Nadal is going to be a lot more challenging.
In a statement, Federer said
Rafa really can hurt anybody on any surface. He's serving way different. I remember back in the day how he used to serve, and now how much bigger he's serving, how much bigger he's serving, how much faster he finishes points
Nadal has dropped his serve only four times on his journey to the semi-final and served up 47 aces. Now that he is serving well, he does not have to chase down as many balls as before and conserves his energy better. The Spaniard has won two Wimbledon Championships and will be very keen on defeating Federer on 12 July and book himself a place in the final against the winner of number 1 seed Novak Djokovic who plays the 23 seed Roberto Bautista Agut.
Women's Final: Serena Williams vs. Simona Halep
Serena Williams is just one match away from winning her 8th Wimbledon Championship. Williams had a convincing 6-1, 6-1 semi-final win against Barbora Strýcová and will now play the number 7 seed Simona Halep in the women's singles final.