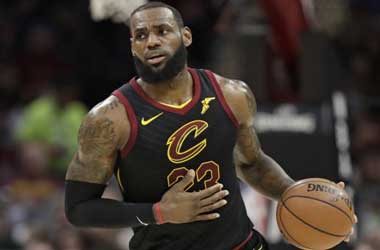 The Toronto Raptors are sitting on top of the Eastern Conference points table after having a good season in 2018. They took on the Cleveland Cavaliers on Tuesday as they played at the Quicken Loans Arena which has never been a favourite hunting group for the Raptors.
Considering the form that they have been in this season, the Raptors were expected to challenge LeBron James and the Cavaliers and cause an upset in front of Cleveland fans. That did not happen as the Raptors struggled in different departments and ended up going down to the Cavaliers 112-106.
This was the 10th loss that the Toronto Raptors has suffered in 11 games at the Quicken Loans Arena. One of the main reasons why the Raptors failed to push Cleveland was because they missed shots throughout the game and were especially bad on the 3 pointers.
At the end of the game, the Raptors had made just 11 out of 34 shots from deep and had a 45 percent overall score. That was never going to be good enough against a team like Cleveland who outplayed the Raptors in all departments of the game.
House of Highlights
King James Sets Yet Another Record
No one is sure if King James will continue to be with Cleveland next season. However, for now he still continues to stand head and shoulders above his teammates and continues to break records with each game. LeBron James already has a list of impressive records which includes surpassing the great Michael Jordan for the most number of consecutive games where he scored 10 points or more.
James broke yet another record on Tuesday when he surpassed former rival Kobe Bryant. King James scored 20 points for the 942nd time in his long and illustrious career and in doing so has now taken the third spot on the list of 20 point game scorers in NBA history.
The 33 year old James plans to continue to play in the NBA for a few more years and will continue to break new records. It will be interesting to see if he gets to reach the top of the NBA point leaders list which is currently headed by Kareem Abdul-Jabbar who has scored 38,387 points. James is currently in 7th place on this list with 30,898